Google Drive is a file storage and synchronization service provided by Google, which enables user cloud storage, file sharing and collaborative editing. It can also be considered an online drive, that can be accessed through any browser and mobile device.
Unfortunately, the synchronization tool provided by Google Drive doesn't guarantee a real protection against some ransomware like Cryptowall and Cryptolocker, since they can encrypt the local Google Drive folder, and, consequently, you will lose all your online files once local files are uploaded for synchronization.
Among the great online backup features of Iperius, you also have the chance to make a Google Drive backup. This allows to save your files remotely on Google Drive in a very easy way (cloud backup).
Iperius can backup your files also to other cloud storage services, such as Microsoft OneDrive, Azure, Amazon S3 and Dropbox, and even to FTP servers, but this tutorial is focused on Google Drive.
First of all, from the program main window, create a new backup job: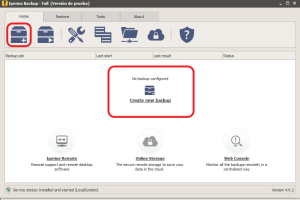 Add the files and folders you want to backup to Google Drive:
Now add a new cloud destination. As you can see in the picture below, you first have to add and select a new Google Drive account.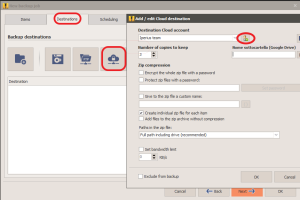 To get the login data for the Google Drive account, you must access a dedicated area provided by Google, where you must enable the Google Drive API and generate a key pair.
To do that, please read this tutorial: Enable Google Drive API and get an authentication ID.
Once the Google Drive account has been created (the first time Iperius will require a special authentication through a web page), you can select it in the list and then pass to the other options.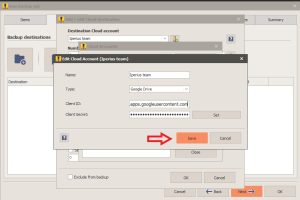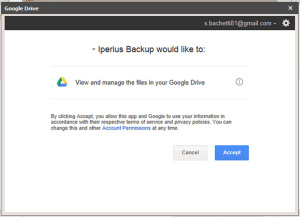 Getting back to the window where you're configuring the destinations, you can see, among the available options, the number of copies to retain, the possibility to protect zip files with a password or encrypting the whole file, and the possibility to configure custom names for zip files.
Save the destination clicking on the "OK" button. In the next panels, you can configure a scheduler to run the backup automatically at specific days and times, and the e-mail notification options. To see how to configure these options, please read the following tutorials:
How to set scheduling – How to set email notifications
Finally, in the last panel, choose a name for the backup job and click "OK" to save it.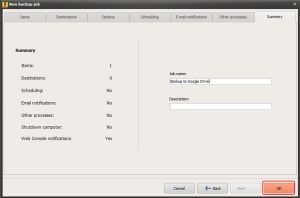 Once the new backup job has been saved, you will be able to run it with a simple right click.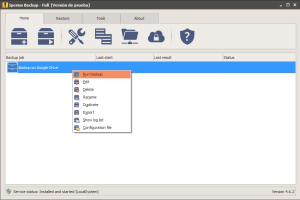 Iperius will compress all selected files and folders into a zip file, it will encrypt it if requested, then it will send it to Google Drive. Everything will be made keeping both maximum safety and data integrity. Iperius is a complete and extremely reliable online backup software, that also supports FTP, FTPS and SFTP (to know more about data safety for remote backups, read this article).