Iperius is a lightweight, powerful and flexible software for Hyper-V backup.
In fact, it can make hot backups of Hyper-V virtual machines to multiple destinations, like LTO tape drives or NAS devices, and without any limitation on the number of virtual machines and data size.
Among the most important features of Iperius for this backup type, there are:
Extremely lightweight and stable software
Very easy to configure and scheduling of automatic backups
Compatibile with all Hyper-V versions (Server 2008, Server 2012, Windows 8, Windows 10, etc…)
Hot backup with incremental block-level image
Individual backup of virtual machine files
One of the lowest price on the market (146 €), perpetual license, updates and support included
One license for an unlimited number of virtual machines
Many destinations allowed: LTO Tape, NAS, FTP, etc.
Complete utility with many other features,  and the backup of VMware ESXi and ESXi Free virtual machines.
In this brief tutorial you will see how easy is to make the backup of Hyper-V virtual machines with Iperius:
Once you installed and started Iperius, create a new backup job: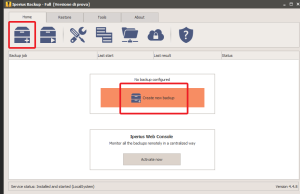 Add a special item, the Hyper-V backup item, as shown in the picture below: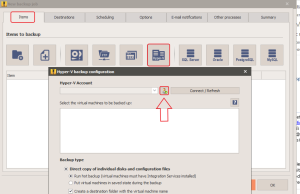 First you have to create an account to connect to the Hyper-V server (that is the local server, where Iperius is installed). To do that, click on the button circled by red in the picture below.
Creating an account is very simple: you only need to specify the credentials of a local/domain administrator account.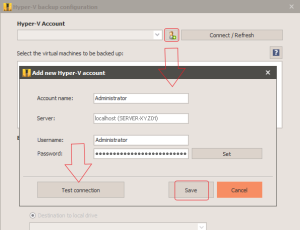 Once you saved the account, you can immediately connect to Hyper-V, to show and select virtual machines, as you normally see them in the Hyper-V management console: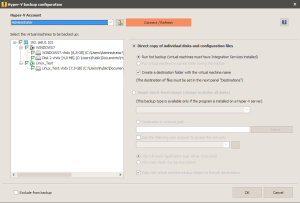 There are few basic settings in the Hyper-V backup configuration. In fact, you have to select one or more virtual machines, and then specify the backup mode: you can choose to create an image backup including all virtual machines and that can be updated incrementally – a block level backup – or you can choose a direct copy of virtual machine files individually, also choosing the disk to backup (the main one is always selected and obviously uncheckable). Using the image backup mode, you will be able to restore virtual machines also using the Windows Server Backup management console, while using the other backup mode you can restore individual virtual machine files manually, simply copying their disk and configuration files to the original folders. Iperius doesn't use any proprietary format, so virtual machine backups will always be restorable regardless of Iperius, because they're kept in the standard Microsoft formats.
Save the Hyper-V backup item clicking on the OK button.
If you choose the image backup mode, it's not mandatory to add further destinations in the next panel (unless you want to make a copy of the image backup to an additional destination), while if you chose the direct copy of virtual machine files, in the "Destinations" panel you have to to add one or more destinations (an external disk, an LTO tape drive, a NAS device, an FTP server, etc…) . You can see some example destinations in the picture below: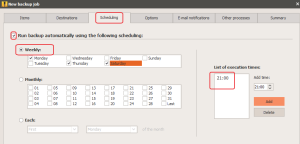 Now you can configure the scheduling settings, for automatic backups (you can leave all the other options to their default values):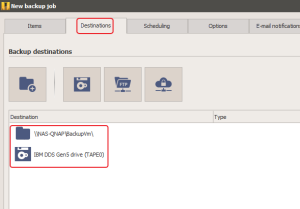 For scheduling and email notifications, you can read the related tutorials:
How to configure automatic backups – How to configure email notifications after the backup
Finally, choose a name for the backup job and save it clicking OK.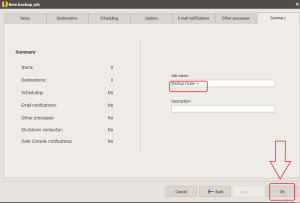 Now you can already run the backup, as shown in the picture below: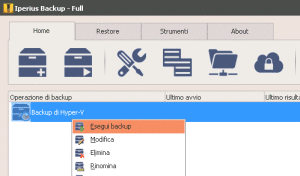 Restore:
Recovering an Hyper-V virtual machine saved with Iperius is very simple. In fact, Iperius saves the virtual machine in its original format (a VHDX image or a simple copy of its VHD/VHDX and XML files), without using any proprietary format. The image backup can be restored using Windows Server Backup as well (you can see and select the virtual machine(s) to be restored from the image). If you made instead a direct backup of individual virtual machine files, you can simply copy back those files in their original folders and start the virtual machine. Obviously you can also create a new virtual machine and attach the virtual disk files saved by Iperius.
Scarica la versione di prova gratuita