One of the most powerful and comfortable features provided by Iperius is the chance to connect it with a centralized Web Console.
Thanks to the Web Console, you won't have to read tens of e-mails every day to check the backup results. You will simply need to access a dashboard on the Iperius Backup website to check if all your backups have been completed correctly.
In addition to reports, the Web Console also offers other useful functions:
Possibility to run backups remotely
Remote AutoUpdate (you can update Iperius on all your machines with a simple click)
Detailed information about the workstation/server status
In the following tutorial you will see the few simple steps to enable the Web Console.
The first thing to do is to buy a Web Console license (that has a basic price of 89€/year for 50 computers). If you want to evaluate the web console or if you need to monitor an higher number of computers, contact the Iperius Backup support team.
Once you've purchased your web console license, you will get an unique identification code.
Copy this code and paste it into Iperius. You must repeat this operation for all Iperius installations you want to monitor.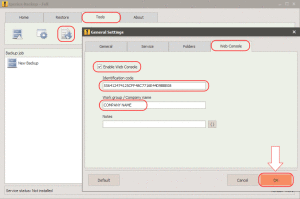 For each backup job you can decide if send notifications to the web console, using a simple option (enabled by default):

Once the web console is enabled, every monitored backup job will be reported in the web dashboard, where you will see computer information, job information, backup logs and possible errors.
You can see in the picture below how you can easily access the web console in your private area: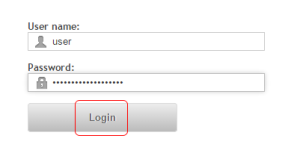 Once you're logged in, you can access the Web Console clicking on a simple link: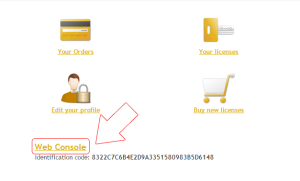 The first page will show you one or more work groups (you can type any work group name inside Iperius, and this will allow you to have a customized grouping of monitored computers). Clicking on the "Details" link of a group, you can see the list of the computers belonging to that group and their status: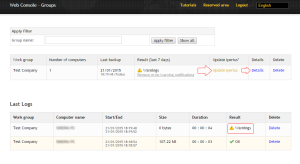 As you can see in the picutre above, for each computer you've various useful information, among which the Windows version, Iperius version, IP address and the online status. You can see in addition the date of the last backup performed and if there have been errors recently. Here you can also find another important function: the possibility to update Iperius to the latest version.
To get further details of each backup job and to see the single logs, click on "Details":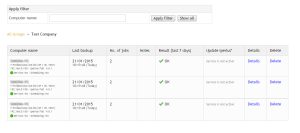 You can see the list of backup jobs created on a computer and their details. Here you've another important function: the possibility to run a backup job on the remote computer, without any user interaction.
As you've seen in this brief tutorial, the Web Console shows a very clear situation of the various backups you configured. With a few simple commands you can clear error notifications, delete a log, a job or a computer from the list, run a backup remotely and update Iperius remotely. A very simple and useful tool to keep under control all the backups of your customers or your company, from a single centralized interface.
The time saving, the ease of managment and the perfect overview that the Web Console can give you, make of it an essential feature for resellers and big companies that need to monitor many Iperius installations.
Click here to buy the Web Console.
If you want to evaluate the web console or if you need to monitor an higher number of computers, contact the Iperius Backup support team.