In questo tutorial vedremo come aggiungere un nuovo nodo ad una replica peer to peer di database SQL Server. Per creare una replica transazionale peer to peer si rimanda alla guida dedicata.
I passaggi da eseguire sono:
Backup del Database oggetto di Pubblicazione;

Ripristino del Backup del punto 1 sul nodo da aggiungere;

Configurare il nuovo nodo come un distributor;

Andare sul server di Pubblicazione principale ed aggiungere il nodo alla Pubblicazione.
I passaggi 1, 2 e 3 sono già stati visti in precedenza. Nel presente articolo svilupperemo in dettaglio le operazioni inerenti il punto 4.
Sul peer node da aggiungere, ovviamente, deve essere installato SQL Server Enterprise. Si procede a configurare la distribuzione su tale server e poi si ripristina il backup di uno dei server a cui verrà collegato. Completate queste operazioni, si torna sul Server Publisher principale e si clicca con il pulsante destro su Replication–>Local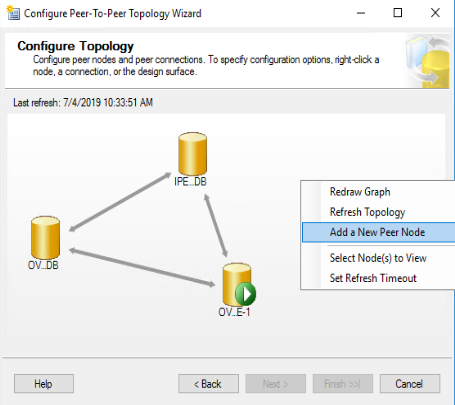 basta cliccare sullo sfondo con il pulsante destro del mouse e nel menu contestuale selezionare "add a New Peer Node". Come già descritto nell'articolo Replica Transazionale Peer To Peer in SQL Server, occorre autenticarsi al nuovo peer node server e scegliere il database, l'ID e la modalità "Push".
Autenticato al nuovo Peer Node il wizard ci chiederà nuovamente l'autenticazione verso ognuno dei nodi presenti. Al fine delle operazioni il risultato è mostrato nella figura seguente: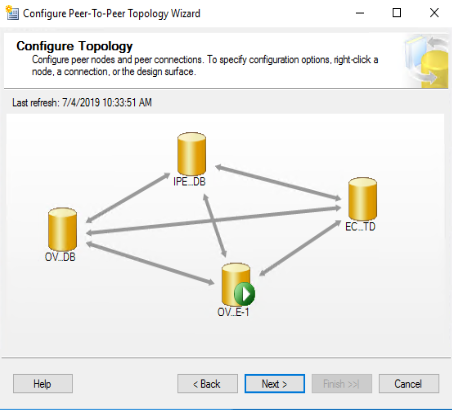 Configurati i livelli di autenticazione, come già illustrato nell'articolo Replica Transazionale Peer To Peer in SQL Server, nella successiva schermata, il wizard creerà Pubblicazioni (una sul nuovo Nodo) e Sottoscrizioni (una per ogni nodo sui nodi già esistenti e 3 sul nuovo nodo per i nodi già esistenti).
Durante la fase di inizializzazione, nel caso la base dati, del nodo da aggiungere, provenga da un backup di un database già in replica, per il quale l'aggiornamento dei dati è frequente ("database changed after the backup was taken"), si deve selezionare la seconda opzione ed indicare il percorso del backup utilizzato per creare il database nel nuovo nodo, come illustrato nella schermata seguente. In questa maniera non vi saranno errori nell'aggiunta del nuovo nodo e i database verranno sincronizzati correttamente.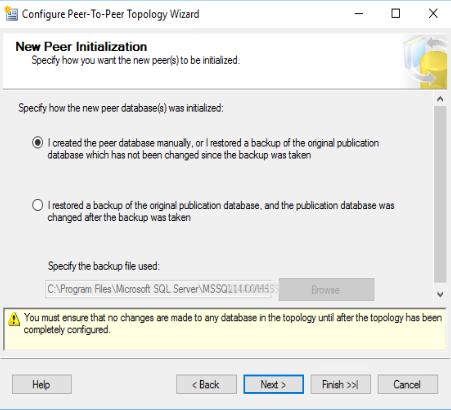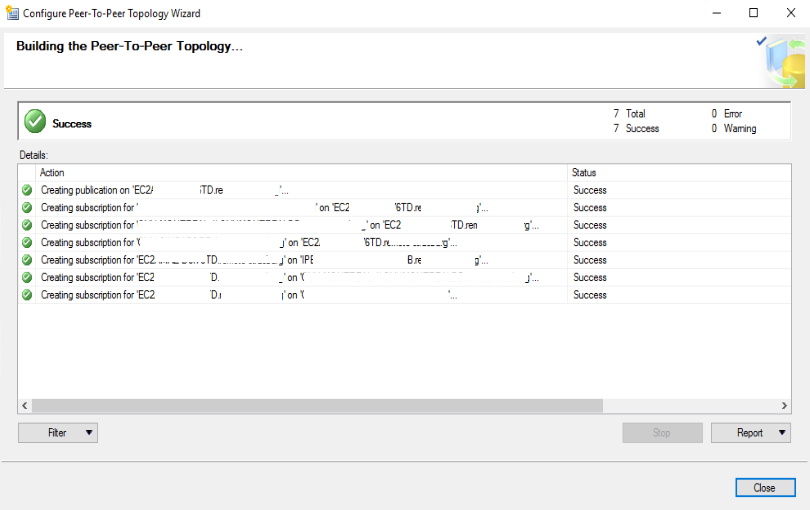 Il database del nuovo peer to peer node è pronto per essere sincronizzato agli altri database della replica. Il tutto avverrà in automatico. In questa fase è utile monitorare le transazioni di sincronizzazione dei dati attraverso il Replication Monitor.