Thunderbird is one of the most well-known and used multi-platform, free mail clients, developed and released with an open source licence by Mozilla Foundation. It is easy to configure and simple to use thanks to its intuitive interface and a configuration that is speedy and practically automatic. This article will look at some useful strategies for backing up Thunderbird email and user accounts.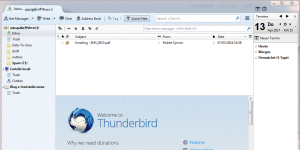 Using an email client rather than a webmail service is recommended because it offers more storage space and emails and contacts are always available even if you are not connected to the internet. Nevertheless, users run the risk of losing data and should equip themselves with back-up software to store secure copies of data and emails and, ultimately, the possibility that these may be migrated to another platform. There are three practical ways of backing up if you are using the Thunderbird mail client:
MANUAL:
It is enough to locate the profile directory. Thunderbird stores user data in a separate directory from the installation directory. However, it is easy to locate and then you can copy, save and export files such as emails, contacts and media files. Files that have been copied can be found in the profile directory, which can be located from the main menu by clicking "Help">>"Problem resolution". In the screen that appears, click the "Display Folders" button on the first tab and this opens a dialogue box allowing you to explore resources in the profile directory.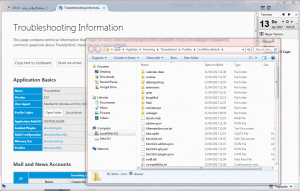 Locate the folder, close Thunderbird then copy all the content and save in another location that may be a CD or a removable storage device (USB, Smart Card, NAS etc.).
This method allows you to restore the profile and all data associated with it on another computer or in another location. Once a new Thunderbird has been installed on the machine of your choice, if the profile names (saved and new) are the same, you can overwrite the profile created by the new Thunderbird installation with those saved and copied. Otherwise, you can overwrite the entire content of the profile folder, but not the profile folder itself.
USING GMAIL:
To use this method, you have to first send the Thunderbird folders to your Gmail account then synchronise them later on a new mail client installation.
In order to do this, you must of course have a Gmail account and configure it on the Thunderbird client of the computer where the data are saved. Make sure that the account you have just set up can use the IMAP protocol instead of POP3.
Next, still in Thunderbird, create sub folders in the Gmail account just set up for each of the message folders you wish to save/transfer to Gmail. Thus, an identical folder will be created remotely on Gmail.
Go into the folder you want to save on Thunderbird and select the existing messages, right click and select "Copy to" from the menu that appears, then select the destination folder in the Gmail account. At the same time as the messages are copied to the new folder, they will also be copied in the Gmail online backup.
If you wish to restore the emails on a new installation of Thunderbird, simply create the same Gmail account on the new mail client installation and every time a new folder is opened, it will synchronise with the folder of the same name on Gmail and thus with the online copy of the mail messages associated with it.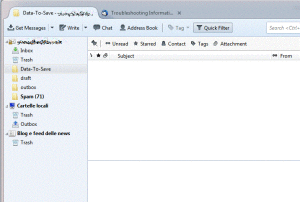 USING WINDOWS UTILITY:
Windows makes native tools available to the user for saving files. Here we are going to talk about "Windows Backup" and "Windows Easy Transfer" that allow you to make secure copies of data or migrate these data to a new Windows installation, using simple guided procedures.
For "Windows Backup", in the first dialogue box, simply select the default settings and select the Thunderbird directory, or customise the items to be transferred and specify the backup destination.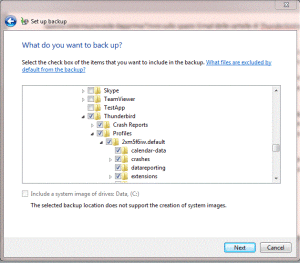 If you choose to use "Windows Transfer ". select your account then put the cursor on the Thunderbird directory, thus customising the items to be saved:
USING IPERIUS BACKUP:
All the methods we have mentioned so far require direct management by the user with the inherent risk of errors and consequent loss of data. In addition, copy and paste does not provide for incremental or compressed backups with consequent waste of space and useless redundancy. Moreover, every secure copy requires the Thunderbird client to be "closed" otherwise we would have an error caused by blocked files. Without doubt specifically developed software will be used to manage scheduled and secure backup. Iperius Backup has special, dedicated functions for secure data copying. Iperius allows you to perform hot copies, thanks to VSS (shadow copy), of Thunderbird mail files, even when the program is running. This mode is important because it excludes the possibility of blocking or incoherent/corrupt mail files. These copies can be made in multiple destinations, such as NAS, external drives, FTP servers and Clouds like Google Drive, Dropbox or Amazon S3.
Imagine that we want to backup the Thunderbird profile data from our computer to our Google Drive account.
The first thing to do is set up the directory profiles as items to backup: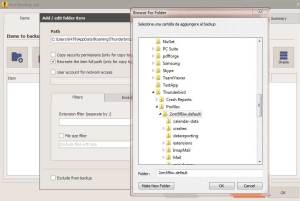 thus we create a Google Drive account on Iperius Backup and configure the destination on Google Drive.
You can find the detailed instructions on how to do this below:
https://www.iperiusbackup.net/come-abilitare-api-google-drive-e-ottenere-id-autenticazione/
https://www.iperiusbackup.net/come-fare-il-backup-su-google-drive/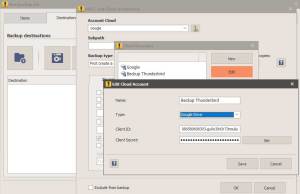 Backup on Drive is very fast and a compressed profile file is created in the cloud. We can schedule this backup and make it incremental. With so many options offered by the program, it is almost impossible to lose data and they are secure:
Another interesting feature of Iperius Backup is that you can set up email notifications, which are like backup reports detailing the operations executed.
Thanks to the scheduling and the email notifications, the backup will always be performed on the preset days and we will always be informed of its correct execution or any errors that occur.