Windows Server Backup (WSB) is a Windows Server native feature that can be activated easily through Server Manager. It is a pretty simple tool with capabilities to backup, and restore all volumes, specific volumes, system state, or even just a specific files and folders within a machine. WSB is also very flexible in terms of restore as administrator is given the options to restore volumes, applications, system state, or files and folders from any backups that are stored either locally or remotely.
Since Windows Server 2012, WSB has some improvements compared to the previous version. Some of the improvements are smarter backup management system where the administrator can determine a policy to auto-delete old backups and free up storage usage, the ability to backup volumes with size greater than 2TB and sector size 4K, support backup cluster shared volumes, and better reporting system. However, the most notable improvement is that now WSB fully supports Hyper-V backup and restore.
In the previous version of WSB, it is not possible to backup or restore an individual VM from a Hyper-V host, as VMs will be backed up or restored as part of a full server or volume backup on the host. With this way, the administrator can do a bare metal recovery later. However, sometimes a more flexible method is needed. In Windows Server 2012 version of WSB, Hyper-V is treated as an application that can backed up or restored. And this means that it is now possible to perform separate backup and restore for just a single virtual machine. The WSB capabilities in backing up the Hyper-V infrastructure includes:
Full backup Hyper-V host with VMs included
Backup Hyper-V host without VMs
Backup individual VM from the host level
Backup from inside VM guest OS
With such capabilities, the administrator can consider planning backup for our Hyper-V infrastructure using Windows Server Backup. The best practice is to schedule an automatic full backup Hyper-V host include all its VMs. With this way, we could capture most of the VMs configurations, snapshots, and virtual hard disks. It enables more flexibility in restoring VMs anytime it is needed, such as in disaster recovery situation. To restore VMs, the administrator can simply select "Hyper-V" option on the "Select Recovery Type" section of the Recovery Wizard in WSB console.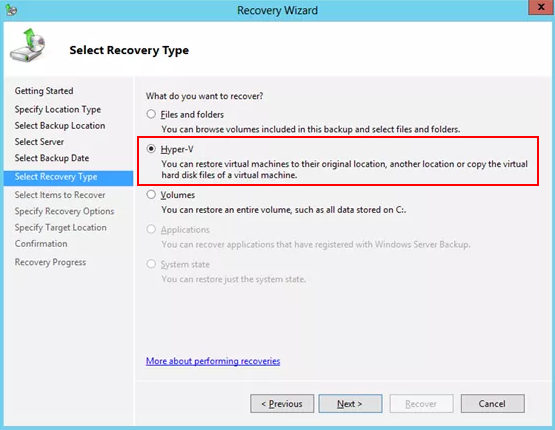 ---
There are three types of restore/recovery scenarios for virtual machines. Each of these scenarios can be considered, depends on the environment where the administrator performs the restore task. The scenarios are:
Recover to original location: This scenario is suitable to use when the original host is still available. This is the most simple method, VMs will be restored to the original host and we don't need to re-create VMs or reinstall Hyper-V.
Recover to alternate location: This scenario is suitable to use when the original host is not available anymore. The Administrator can restore VMs and register it to other available Hyper-V hosts.
Copy to folder: This scenario is used when we don't have another Hyper-V hosts. It will recover the virtual hard disks of the VMs as files that we can use to re-create VMs after reinstalling Hyper-V.
There are some considerations when restoring VMs from a host backup such as:
If the restore is performed while the virtual machine is running, it will actually turning off and delete the VM before VM is restored.
When restoring a VM from live backup, a message that the system was not properly shut down may appear on the guest OS on the VM.
Overall, most of the basic backup functions have been provided by WSB. However, if a more advanced feature is needed, the administrator can consider using more powerful backup software that fully supports Hyper-V, such as Iperius Backup. Iperius Backup can perform a backup of live Hyper-V virtual machines and restore them later then. The backups can be saved on the network on NAS, tape, Cloud, FTP, etc, fully automated. Some important additional features of Iperius Backup software are backups can be scheduled and automated, email notifications can be setup so that administrator gets notification of how the backup went. The Iperius Backup software supports all Hyper-V versions available in Windows Server 2012, Server 2008, Server 2016, Windows 8 and Windows 10.