Iperius is a very flexible backup software and comes with many advanced features to optimize backup efficiency. One of these features is the Synchronization, therefore the chance to delete from the backup those files no more existing in the source items. In this way you can save disk space and keep perfect mirror copies of your important folders.
Synchronization is available in two different backup types: backup to local mass storage devices (external USB drives, RDX, NAS, etc.), also using zip compression, and FTP backup (upload). Enabling it is very simple, since you just need to check the dedicated option in the destination, as shown in the picture below: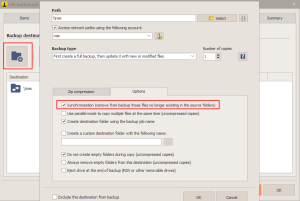 Iperius allows to synchronize folders and files in a very simple way. You can configure unlimited backup jobs to make multiple synchronizations at the same time (parallel execution).
Please remember that synchronization should be used carefully, since it is an operation that permanently delete files from backup folders. You must be sure of what you are doing, and it is generally recommended to keep at least another backup copy where synchronization is not used.