Iperius Backup 7.8.2  introduces some important new features for the backup of VMware ESXi / vSphere virtual machines, including full support for vSphere 8.
It is worth mentioning that Iperius Backup is one of the most complete and powerful software for VMware vSphere/ESXi backup, restore and replication .
Among the most important features we have:
Incremental and differential backup based on

CBT

Incremental host to host Replication

, including forever-incremental mode

Granular restore even on different hosts

Restore single files

even from incremental and differential backups

Compatible with

vCenter

and ESXi Cluster

Full support for

ESXi Free

(vSphere Free Hypervisor) in both backup and host to host incremental replication
We must not forget the economic aspects, which have few terms of comparison on the market:
No limit to the number of virtual machines

that can be protected

No limit to the number of hosts that can be protected (reachable via local network or VPN)

Perpetual license
Finally, here are the other new features of Iperius Backup 7.8.2:
Renewed graphical interface and new icons

The Desktop version is now called "Basic PC", while the Essential becomes "Basic Server"

The Advanced Tape version has been discontinued;

tape backup functions are integrated in the Advanced and Full versions

Backup and Replication for VMware ESXi/vSphere: Full support for vSphere/ESXi 8 and resolution of backward compatibility issues

Drive Image Backup: Ability to back up a partition on the same physical disk as the source partition

Multiple backup sets can now be kept in VMware ESXi/vSphere backup.

This allows you to avoid invalidating previous incremental or differential backups when performing a new full one
Backup and Replication for VMware ESXi/vSphere: fixed a bug that caused instability in incremental backups and replicas on some specific systems

Exchange Online Backup (Microsoft 365): fixed a problem in displaying the complete list of mailboxes with a large number of accounts

Restore from Amazon S3: Added option to manually enter a bucket if you don't have permission to list all buckets

Fixed some minor bugs
VMware vSphere8:
vSphere is a virtualization solution from VMware that offers a wide range of features and benefits. With the introduction of vSphere 8, the solution has seen the addition of new features that make it even more powerful and flexible.
One of the new features introduced in vSphere 8 is the Technical Preview of vSphere Configuration Profiles. This feature allows you to define the desired configuration on the cluster object and apply it to all hosts in the cluster. All hosts in the cluster have a consistent configuration enforced, greatly simplifying cluster configuration management.
vSphere 8 also provides increased support for virtual GPUs and step devices. Administrators can now have up to four virtual GPUs within a VM, and the available number of step devices has doubled in vSphere 8. This allows for better performance from applications that require a GPU.
Another new feature introduced in vSphere 8 is the ability to perform a hotfix of vCenter Server. This feature significantly reduces downtime when upgrading your vCenter Server by creating a new vCenter Server and then bringing in the configuration and persistent data from an existing vCenter Server.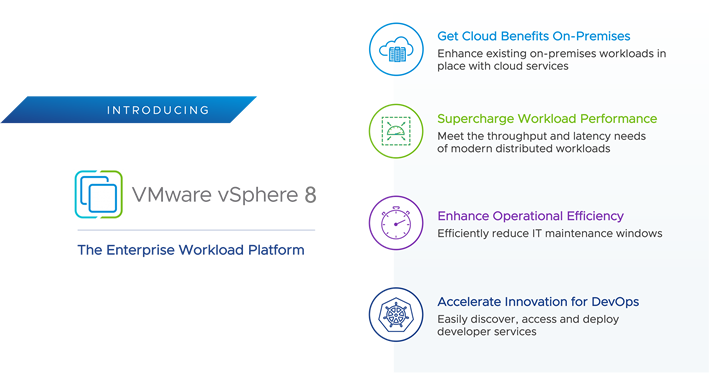 vSphere 8 also introduces a new device group concept that makes it much easier for VMs to consume hardware devices in vSphere 8. This greatly simplifies the management of VMs and associated hardware devices.
Finally, VMware vSphere with Tanzu now supports Kubernetes version 1.23. This allows users to use the advanced features of Kubernetes within the vSphere environment.
In summary, vSphere is a powerful and flexible virtualization solution that offers a wide range of advanced features to simplify the management of IT infrastructures. With the introduction of new features in vSphere 8, the solution has become even more powerful and flexible, making it one of the best virtualization solutions available on the market.