Iperius is a lightweight, powerful and flexible Hyper-V backup software. In fact, it can perform backups of Microsoft Hyper-V virtual machines (also in incremental and differential RCT mode) and on multiple destinations, such as Tape LTO or NAS, Cloud or FTP, and without limitations in the number of virtual machines or in the size of the data.
Here are the most important features of Iperius for this type of backup:
Automatic backup and restore of Hyper-V in RCT mode (incremental and differential) block level
Automatic restore also from network and on different hosts
Price among the lowest on the market (219 €), perpetual license, free support and updates
File level restore (restore of individual files)
Extremely light and stable software
Standard Microsoft formats, to have always recoverable backups
Simple to configure and schedule for automatic backups
Compatible with all versions of Hyper-V (Server 2008, Server 2012, Windows 8, Windows 10, Server 2016, Server 2019, etc …)
Incremental backup of Hyper-V via block-level image (also with application log truncation)
Individual backup of virtual machine files

Exclusion of specific disks

or virtual machines
One license for unlimited virtual machines. Connect to unlimited Hyper-V servers from a single installation, without the need for any agents.
Numerous destinations, including Tape LTO, NAS, FTP, CLOUD (Google Drive, Dropbox, Amazon S3, Azure Storage, etc.).
Complete utility with numerous other functions, including backup and replication of VMware ESXi and ESXi Free virtual machines
(*Note:  for block-level Image and RCT mode, Iperius Backup has to be installed on the Hyper-V host.  Also,  some configurations will require a license per hypervisor.)
You can read below a short tutorial that will show you how to back up Hyper-V virtual machines:
Once Iperius is installed and started, you can immediately create a new backup job:

Add a special item, the Hyper-V backup, as shown in the image below: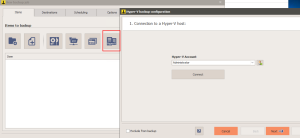 The first thing to do is create a connection account to the Hyper-V server (which in our case will be the local server, where Iperius is installed). To do this, click on the appropriate button shown in the image above. Creating an account is very simple: just specify the Hyper-V server data, entering the IP or the name of the machine and the credentials of an user with Administrator privileges.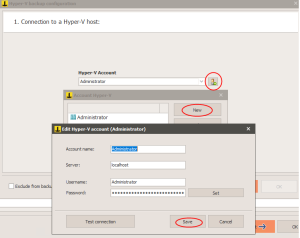 Once the account has been created and saved, you can immediately connect to view and select the virtual machines, exactly as you can see them in the Hyper-V management panel: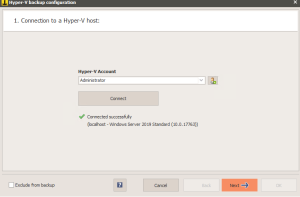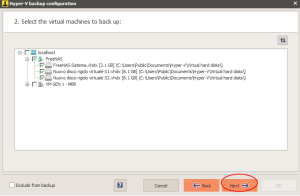 Select one or more virtual machines, and click on "Next".
In the next screen, select the Hyper-V backup type.
There are 3 ways you can make the backup:
1. RCT Backup (Resilient Change Tracking) incremental or differential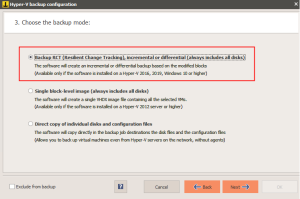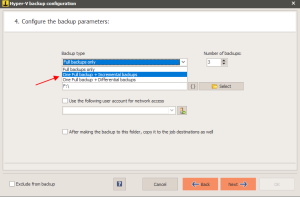 The backup using the Resilient Change Tracking technology, introduced by version 7.0 of Iperius Backup, allows Full, incremental or differential backup, copying only the modified blocks; choosing for example the incremental backup and setting 3 in the number of copies, Iperius creates the FULL folder and then 3 incremental folders that contain only the differences with the previous backup. This type of backup is therefore very efficient, both in terms of speed (only the actual changes are copied), and in terms of space saving. RCT backup is only available on Windows 10, Server 2016, Server 2019 and above, and is the recommended one.
(It is not mandatory to add additional destinations in the destination panel of the backup job, unless you want to copy the RCT backup to an additional destination, such as Amazon S3 or an FTP server).
You can find more information on this new Microsoft technology starting from this page of the official website: https://docs.microsoft.com/en-us/virtualization/hyper-v-on-windows/reference/hypervbackupapproaches
2. Single Block-level image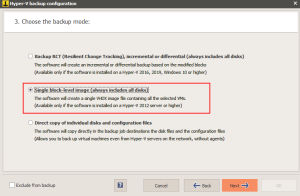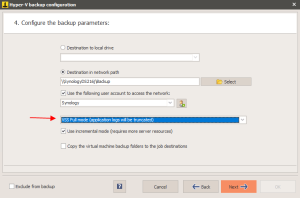 This type of backup creates a complete image that includes all the virtual machines (disks and configuration files) in a single image file (VHDX). This will be a backup that will be automatically updated incrementally, at block level, if the destination is a local or external disk.
(It is not mandatory to add additional destinations in the destination panel of the backup job, unless we want to copy the image backup to an additional destination, such as Amazon S3 or an FTP server).
With this backup type, you can individually restore virtual machines in a few clicks using Windows Server Backup.
3. Direct copy of virtual machine individual files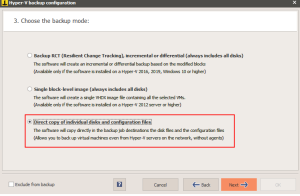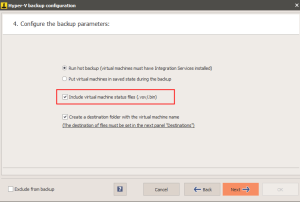 In this mode, the software can directly copy individual disks and configuration files of virtual machines. With this mode it is also possible to exclude specific disks from the backup (the main one, or the system one, is always included and obviously it cannot be de-selected).
In this case in the "Destinations" panel of the backup operation you will have to add the destinations where to copy the files of the virtual machines, which can be a folder on a local, external or network disk, a LTO Tape, a NAS, a Cloud storage service like Amazon S3 or Google Drive or an FTP server.
The advantage of this type of backup is that it can also be made of Hyper-V servers on the network, without the need for any agent (agentless). With a single license it is therefore possible to backup unlimited hosts and virtual machines that are reachable on the network. The disadvantage, especially compared to RCT backup or block level image, is that it is always a full copy, therefore the software always copies the entire disk files of the virtual machines.
Finally, click on "Next" until you get to the "Summary", and save the Hyper-V backup item.
If you have chosen the direct copy mode of the files, or if you want to add an additional destination to the backup, go to the "Destinations" panel and add the desired ones, as shown in the image below: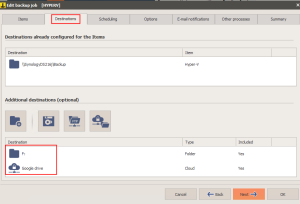 Proceed to set the automatic backup schedule, while leaving all the other options in their default values:

Regarding scheduling and email notifications, we can read the following tutorials for further information:
https://www.iperiusbackup.net/en/how-to-schedule-automatic-backup-with-iperius/
https://www.iperiusbackup.net/en/configuring-email-notifications-after-backup/
Finally, let's choose a name for our backup job and save it by clicking OK.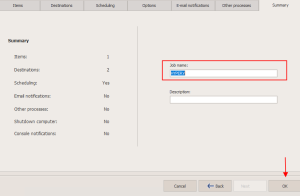 Now you can immediately run the backup, as shown in the image below:
In a typical RCT backup with one full copy and multiple incremental or differential copies, in the destination folder you will get a folder structure like the following:

Restore:
To see how easy it is to make a bare-metal restore of an Hyper-V virtual machine, see the following tutorial: https://www.iperiusbackup.net/en/restore-hyper-v-virtual-machines-rct-with-iperius/
To restore individual files (file level restore) from an Hyper-V backup, see the following tutorial: https://www.iperiusbackup.net/en/how-to-mount-vhd-vhdx-extract-individual-files-from-drive-image-and-hyper-v-backups/
Iperius does not use any proprietary format wherever it is possible, therefore backups of the virtual machines will always be recoverable independently of the software, since they are in the standard Microsoft formats.