Iperius is a software that allows to perform drive image and cloning of disks in different modes. One of these is the Windows Drive Image, based on wbadmin and compatible with the Windows system image backup software. Iperius therefore supports the drive image of Windows 10 and Windows Server Backup, and the image files created are in VHD or VHDX format.
In the case of Windows Image Backup, on some systems it is possible that Iperius reports an error in the backup verification, with the following message: "The size of the backup is different from the size of the data transferred. Possible corrupt backup.". This error is due to the fact that Iperius does some thorough checks on the system logs even when the drive image is apparently completed correctly. This error occurs only in some specific cases, and can indicate the presence of a problem on the disk of which we are performing the image. In some of these cases, the backup could be corrupted, which is why Iperius sees it as a potentially critical error. In other cases, the thing may not be a real problem, and the backup is perfectly intact.
There are a few things we can do to try to resolve the error, before deciding to replace the disk and proceed to reinstall the system on a new hard disk.
Let's try first to run a check disk, using the following statement from the command prompt:
chkdsk C: /f
Where C: is the disk to be checked, that is the one you are trying to backup the drive image.
For more info on the chkdsk command, consult the relevant Microsoft website page: https://docs.microsoft.com/it-it/windows-server/administration/windows-commands/chkdsk
If no problems have been detected on the disk, proceed to analyze and repair the system files, with the following command:
sfc /scannow
Finally, let's try to delete any shadow copies (make sure that they are not necessary for recovery points or file history), using the following command:
vssadmin delete shadows /all
If after these operations the Windows Drive Image backup continues to give the same problem, you can choose to use the Iperius Drive Image mode, which uses a proprietary engine that can overcome this problem automatically. The backup will remain absolutely reliable and the format will always be VHD / VHDX.
We can choose the way in which to run the drive image from the appropriate configuration window: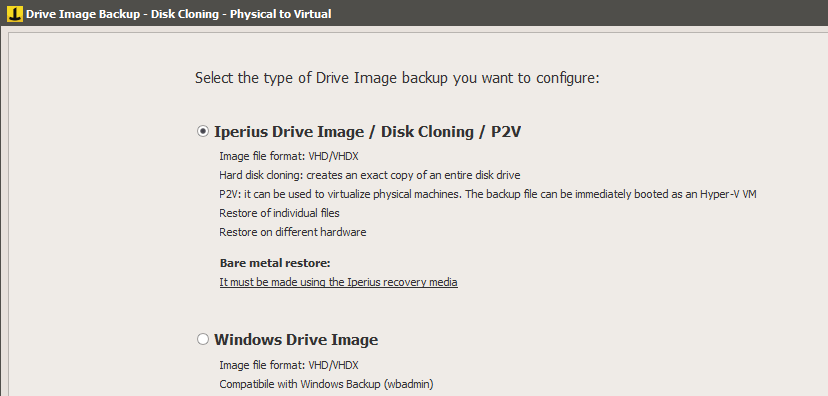 Restore individual files and bare-metal restore (disaster recovery)
For both types of drive image backups, recovery can be done by mounting the VHD / VHDX files and exploring their contents (if you want to recover individual files), or by performing a bare-metal recovery, even on different hardware, using the Windows installation disc (in the case of Windows Image backup) or with the Iperius boot drive, which contains the Iperius Recovery Environment® system.
To restore individual files, see this tutorial: https://www.iperiusbackup.net/en/how-to-mount-vhd-vhdx-extract-individual-files-from-drive-image-and-hyper-v-backups/
For bare metal recovery using Iperius boot disk: https://www.iperiusbackup.net/en/restore-drive-image-backup-system-recovery-with-iperius/
For drive image backup and disk cloning with Iperius: https://www.iperiusbackup.net/en/drive-image-backup-p2v-disk-cloning-iperius/