Iperius Remote is a software for remote control and remote access of computers. It can be used to provide remote support and technical assistance, to share the computer screen, or to automatically access remote computers and servers (unattended mode).
In May 2022, version 4 of Iperius Remote was released, a completely new remote desktop software, developed with the most powerful client-server technologies and with a high-performance and scalable infrastructure, geographically distributed across 5 continents.
Iperius Remote 4 offers an incredible series of new features, which allow maximum ease of use combined with reliability and performance at the top of the category.
Try the free version downloading it from the official website: www.iperiusremote.com
Thanks to the new multi tab interface, within a completely renewed graphic layout, it is possible to connect remotely to any computer with a simple click. All you need is the remote computer ID and password, and you can immediately be in front of the remote screen as if you were sitting there.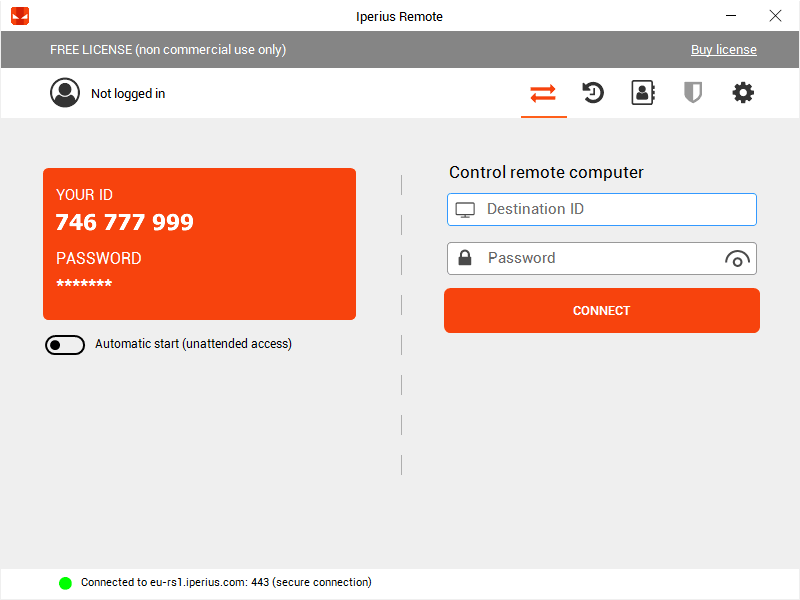 The first thing you can appreciate about Iperius Remote 4 is the great fluidity of use. In fact, thanks to the new H.264 video codec and the peer to peer connection via UDP protocol, it will even be possible to see a video on the remote device without delays or interruptions. Clearly this is an essential aspect for those who have to work remotely. In fact, Iperius guarantees an excellent experience for those who have to connect to the office PC in a stable and responsive way during all working hours.
But let's see some of the most interesting news released with Iperius Remote 4:
Remote desktop for MAC !
Iperius Remote is now also available on macOS operating systems, both to connect FROM a MAC and to provide assistance TOWARDS a MAC. Finally a free remote access software for MAC too! All connection directions are supported:
Remote desktop from Windows to MAC
Remote desktop from MAC to Windows
From MAC to MAC
From mobile (Android smartphone or tablet, iPhone, iPad) to MAC
Here is the main window of the MAC version of Iperius Remote: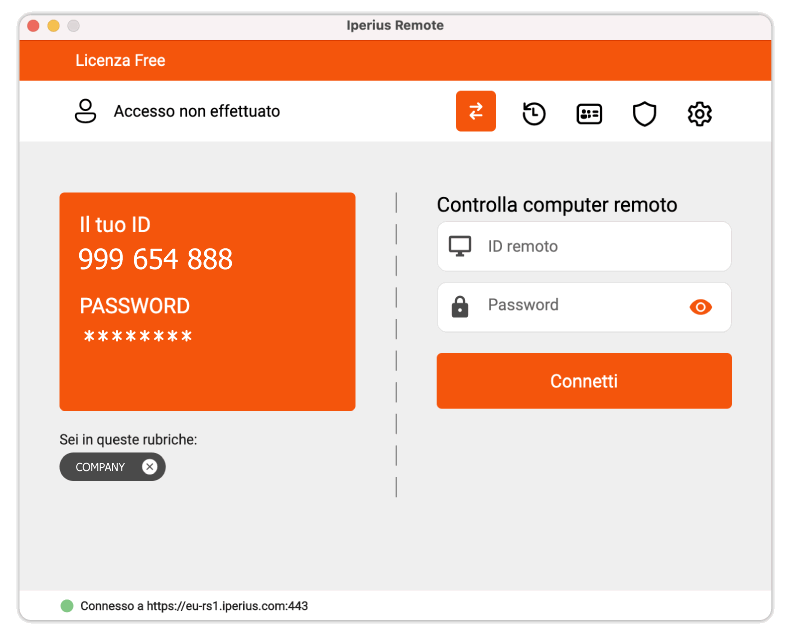 As you can see, the software is extremely simple to use. With a few clicks you can connect to a remote MAC or connect from our home MAC to the office PC, with maximum visual quality and maximum fluidity.
In addition to this, you have quick shortcuts in the toolbar that allow you to speed up productivity as much as possible.
DELTA File Transfer
Transfer of folders
The new file transfer guarantees exceptional performance in any scenario. The transfer is in peer to peer mode, and have the speed of a local network transfer for computers located in the same company. In addition, the software transfers multiple files simultaneously and is capable of transferring entire folders in incremental mode.
One of the most powerful features is the native DELTA mode, which is always enabled. This allows you to transfer only the modified parts of a file, when this is already present in the destination. To give an example, if you have to transfer a large file several times, the software, in subsequent transfers, will copy only the modified parts of the file. This guarantees an extreme gain in terms of efficiency and consumed bandwidth. A feature that therefore has a fundamental impact on productivity.
New APPs for iOS and Android – The greatest usability!
The new Iperius Remote 4 apps for mobile devices are completely rewritten with the latest languages ​​and technologies. They are very easy to use, and with one click you can connect from your Android smartphone or iPhone to any remote computer or server, be it a Windows 11/10, a Windows Server or a MAC. Thanks to advanced features such as adaptive zoom, quick shortcuts, and the smart cursor, you can work in comfort even when connecting from an Android tablet or iPad, with the same ease as when you are in front of your computer.
The Iperius Remote apps allow you to remotely access server systems as well. You will therefore be able to carry out assistance or remote support interventions in unattended mode from any place where you have an internet connection. A perfect tool for solving emergencies or monitoring the status of systems remotely when you are on vacation or on a business trip.
To make your work even easier, the Iperius Remote apps support bidirectional copy & paste. It will therefore be very easy to copy and paste texts from your smartphone to the remote computer and vice versa. Another important tool for increasing productivity in remote work.
Coming soon …
New features for MAC and Remote Printing
… and that's not all. In the coming months we will make several new releases to increase the software features exponentially. The MAC version will be enriched with file transfer, unattended access (installation as a service at system startup) and auto-update. We will also introduce remote printing, which is the ability to automatically print a remote document on your local printer.
Remote control and remote access TO mobile devices
And last but not least, the apps will be enriched with another great feature, which is the ability to remotely connect TO mobile devices. You can connect remotely from a Windows computer to an iPhone or remotely control your Android smartphone or tablet directly from a MAC.
And finally:
Session recording
Meeting with audio
Send invitations for assistance requests and queue management of assistance requests with InBox mode
Remote control from browser