Iperius Remote is available as an APP for Android and iOS mobile devices!
The Iperius Remote apps are free and allow you to make remote desktop connections to any Windows or MAC computer with just a few clicks, directly from your mobile phone or tablet!
Download and install one of the best remote desktop apps on Android and iOS right now:
iOS: https://apps.apple.com/it/app/iperius-remote-4/id1592666519
Android: https://play.google.com/store/apps/details?id=com.entersoftware.iperiusremotedesktop&hl=it&gl=US
The possibility of using the Iperius Remote Apps also from an Android Tablet or iPad is certainly a significant advantage for making remote desktop connections smoothly and with maximum comfort. In fact, it will be possible to carry out all the necessary operations on remote systems, exactly as if you were there.
Thanks to Iperius Remote, working from home becomes reality in the simplest and most efficient way. In addition, companies that offer technology services and system integrators will be able to provide remote support to their customers from any location, even while they are not physically on their workstation.
What are the benefits of using an iOS or Android remote desktop app?
Certainly the possibility of providing technical support to a customer at any time, especially in an emergency situation. In fact, you can connect to a Windows server and perform maintenance or monitor its status in a very simple way, thanks to the unattended mode.
For system administrators, one of the main advantages is precisely that of being able to have an address book of all the servers that you manage, and to be able to quickly connect to each of them. You can therefore have the situation under control wherever you are, and be immediately ready to intervene.
For working from home: did you forget to check something on your office PC? No problem, from your smartphone you can connect to your computer or MAC from anywhere and in total safety.
How to control your PC with Android and iOS
Controlling your PC or MAC with Android and iOS is very simple. If there are no users on the other side, Iperius Remote must be installed in unattended mode. You must therefore know the 9-digit ID and custom password. If, on the other hand, you have an Iperius Remote professional license, you can also add the remote PC or MAC to your address book, and access it much more quickly.
This is the typical screen of an Iperius Remote connected in receive mode on MAC: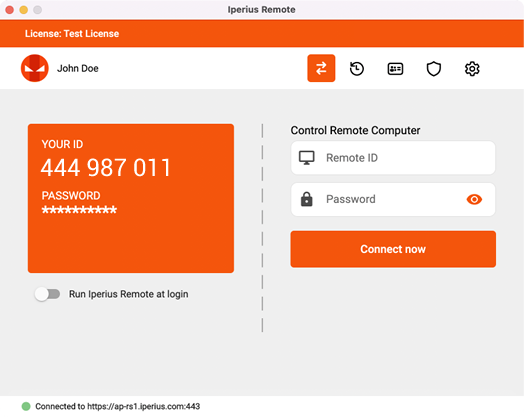 On your mobile device, you will simply have to enter the 9-digit ID that you see in the image above, and the password: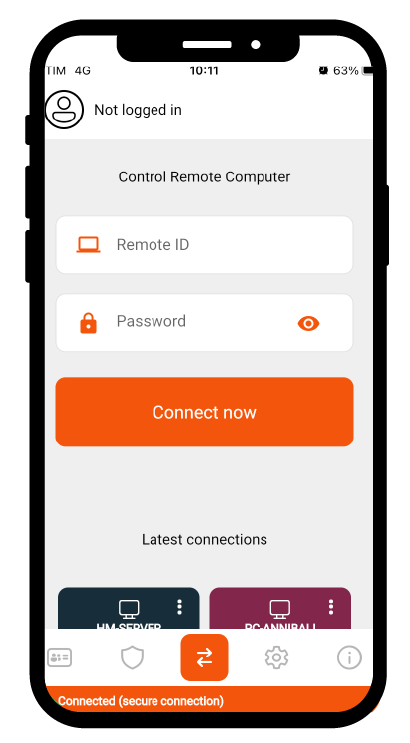 And here's what your Remote Desktop connection will look like on a Windows system: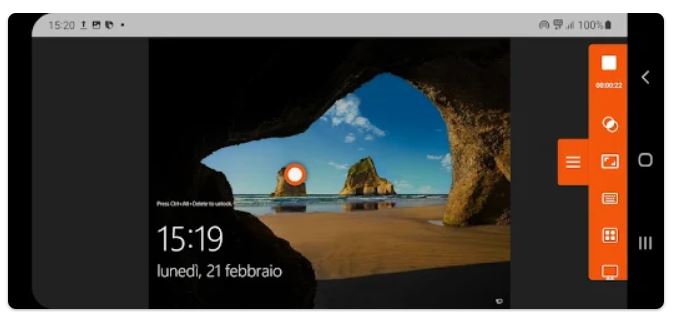 Simple and powerful, with best-in-class video quality and performance.
Iperius Remote Desktop for Android and iOS is freeware, but you can subscribe to one of our subscription plans  if you need professional features for remote work or for remote support to your company's customers.
Integration with Iperius Console
For those who perform remote support services to their customers and need to constantly monitor the status of remote servers and computers, we remind you that it is possible to rely on Iperius Console (https://www.iperiusconsole.com), the centralized IT management console of the Iperius suite. Iperius Console allows checking the health status of the remote machines (disks, CPU, RAM, Antivirus, etc.) and of the backup procedures (through Iperius Backup). It also integrates with Iperius Remote, allowing remote desktop sessions to be performed on monitored machines in just a few clicks. Iperius Console is also available as an Android and iOS app, for maximum control of your IT infrastructure even when you are not in the office.