Iperius is an efficient and complete backup software which allows making cloud backup to all the most popular cloud storage services.
This tutorial shows how to get the special credentials needed by Iperius to access a OneDrive account and send backups to it.
[To know how to make backups to OneDrive, look at the related tutorial.]
For the creation of the "App" and to obtain the access credentials to be used inside Iperius, go to the following link:  https://portal.azure.com/#blade/Microsoft_AAD_RegisteredApps/ApplicationsListBlade
NB: Users who have previously created the App through the link https://apps.dev.microsoft.com/#/appList , they can find the Apps already registered and the client IDs unchanged on the Azure portal.

Once you've logged in entering the One Drive credentials, click on "New Registration" in order to create a a new App:
Type in the "Name" of the application you are going to create, leave all others options and then click on "Register".
You will see the generated Application (client) ID that Iperius will use to authenticate itself and send backups to OneDrive through a secure connection.
As a last step, in order to complete the registration of the App, let's click on "Add a redirect URI":

The fields must be configured as follows: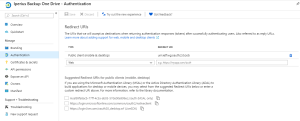 Set "Live SDK support" to "No", leave all other options and click on "Save".
To know how to make backups to OneDrive, look at the related tutorial.