Office 365 (now Microsoft 365) is a suite of Microsoft cloud products for business productivity and documents, heir to Microsoft Office and with a marked propensity for business use.
As a cloud-based business collaboration and work platform, Microsoft 365 includes productivity apps such as Office 365, Exchange Online, Teams, SharePoint, and OneDrive. Additionally, Microsoft 365 offers advanced security features such as Microsoft Defender, sensitive data protection, and regulatory compliance.
Talking about Microsoft 365 is very important in terms of security and backup, given that the mere fact of having all documents and company mail on a cloud platform requires the utmost attention in security management, without forgetting business continuity, i.e. the possibility of having a backup of your data always available, even in the absence of an internet connection or due to human errors. For this reason, after having illustrated the main aspects of this collaborative platform, we will analyze one of the best backup software for Microsoft 365 : Iperius Backup .
See also:  Backup of Exchange Online (Office 365) with Iperius Backup
Here are some of its main components:
Office 365: Suite of productivity apps like Word, Excel, PowerPoint, Outlook, OneDrive and SharePoint.

Exchange Online: Cloud-based email and calendar service.

Teams: Collaboration and communication platform, including chat, audio and video calls, online meetings and file sharing.

SharePoint: Content management and collaboration platform that includes document management, website creation and enterprise information management.

OneDrive: Cloud storage service that allows you to access files from any device.

Power Platform: Automation platform and custom apps that help you build business solutions without coding.

Microsoft Defender: Antivirus protection and threat safety for Windows and Mac devices.

Compliance and Security: Compliance and security features to protect sensitive data and comply with regulatory requirements.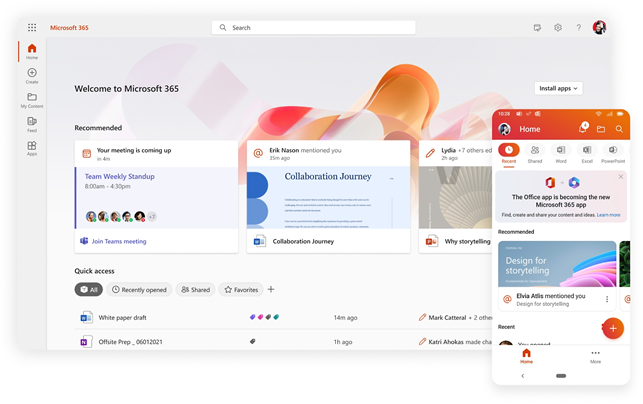 When you decide to adopt a cloud collaboration tool like Microsoft 365 at a corporate level, you need to analyze all the pros and cons in detail, to finally arrive at careful considerations regarding data backup:
Pro:
Accessibility from anywhere and from any device, with the ability to work both online and offline.

Complete suite of productivity apps to meet all the needs of business teams, from SMB to large enterprise

Real-time collaboration with Teams, including chat, audio and video calls, online meetings, and file sharing.

Secure and accessible file storage from anywhere with OneDrive for Business.
Cons:
Possible dependence on the internet connection to access the services.

Potential difficulty in adapting to a completely new platform and in divesting the previous procedures.

Recurring cost, as Microsoft 365 requires a monthly or annual subscription.
Microsoft 365 backups:
When it comes to backing up your data, there are several strategies that can be used to ensure data security in Microsoft 365:
Automatic backup: Microsoft 365 offers automatic backup of data to OneDrive and SharePoint, which can be configured to meet your business needs.

Manual Backup: You can manually back up your data in Microsoft 365 using third-party tools or by exporting your data in a file format.

Local backup: You can back up your data in Microsoft 365 to a local device to ensure data safety even if your internet connection goes down.

Cloud backup: You can back up your data in Microsoft 365 to third-party cloud storage to ensure data availability even if your connection to Microsoft 365 drops.
Backup is an often overlooked aspect, especially when we talk about cloud platforms. In fact, we must not forget that all company data is no longer physically within the company but is stored on third-party servers and databases, in this case Microsoft. There are many Office 365 backup software, but certainly one of the best among them is Iperius Backup, which provides companies and end customers with some fundamental tools to ensure peace of mind when using this cloud platform.
Iperius Backup can back up unlimited Exchange Online mailboxes with a few simple configurations. Compared to other software, Iperius Backup is very convenient because it does not have a cost per mailbox or Microsoft 365 account. With a single license you can connect to unlimited accounts and back up unlimited mailboxes . These are downloaded and saved locally on a file in the standard PST format , with all their elements. You can restore a mailbox at any time using Iperius or recover a single email simply by opening the PST file with a compatible viewer program or with Outlook.
Having a standard file like the PST is a further guarantee for the durability of your backups. Whether or not you have Iperius, your backups will always remain accessible .
Iperius also has the option of performing online backups on OneDrive, i.e. it is possible to save local files automatically on the cloud storage available with Microsoft 365. Other important details that intervene in backup strategies with Iperius should also be underlined. When backing up mailboxes, PST files are created locally (but you can also choose to save the emails individually as .EML files). Iperius can then compress these files in zip format, protect them with a password with 256-bit AES encryption and send them to multiple additional destinations, for example on a NAS or on another cloud space, such as Amazon S3 or Google Drive. We therefore have various strategies that allow us to have maximum security in keeping copies of the data always safe.
During the first half of 2023, Iperius will introduce important new features for Microsoft 365 backup, namely OneDrive (download), Sharepoint and Teams backup, becoming one of the best Office 365 backup programs to all intents and purposes and other Microsoft collaborative suite products. All at an absolutely negligible cost compared to the competition.