Backing up to Synology NAS is one of the most used Windows and MAC backup strategies in business. Synology provides various software tools to complete these operations, but in this article we also want to pay attention to the solutions offered by Iperius Backup.
First of all, with Iperius Backup , you can perform many types of backups on Synology NAS: from simple copying or synchronization of files via network shares, FTP servers or S3 servers ( https://manual.mylio.com/22.1/de/topic/ setting-up-an-s3-server-on-synology-nas ), up to more important backups such as drive image of entire computer disk, backup of SQL Server databases, Exchange mail servers, Microsoft 365 and of Hyper-V and VMware vSphere virtual machines.
In any case, Synology offers several tools to create effective backup strategies. Here is a small tutorial on how to use some of the features offered:
Hyper Backup : This is a versatile backup tool that allows you to back up data on a Synology NAS to another Synology NAS, an external USB drive, or even a cloud storage service like Google Drive or Dropbox. Here's how to use it:
Open Package Center in your DSM (DiskStation Manager) and install Hyper Backup.

Once installed, open Hyper Backup and click "Create" to start a new backup task.

Select the backup destination (another Synology NAS, USB drive, or cloud service).

Select the folders and data you want to include in the backup.

Set up a schedule for automatic backups.

Click "Apply" to start your first backup.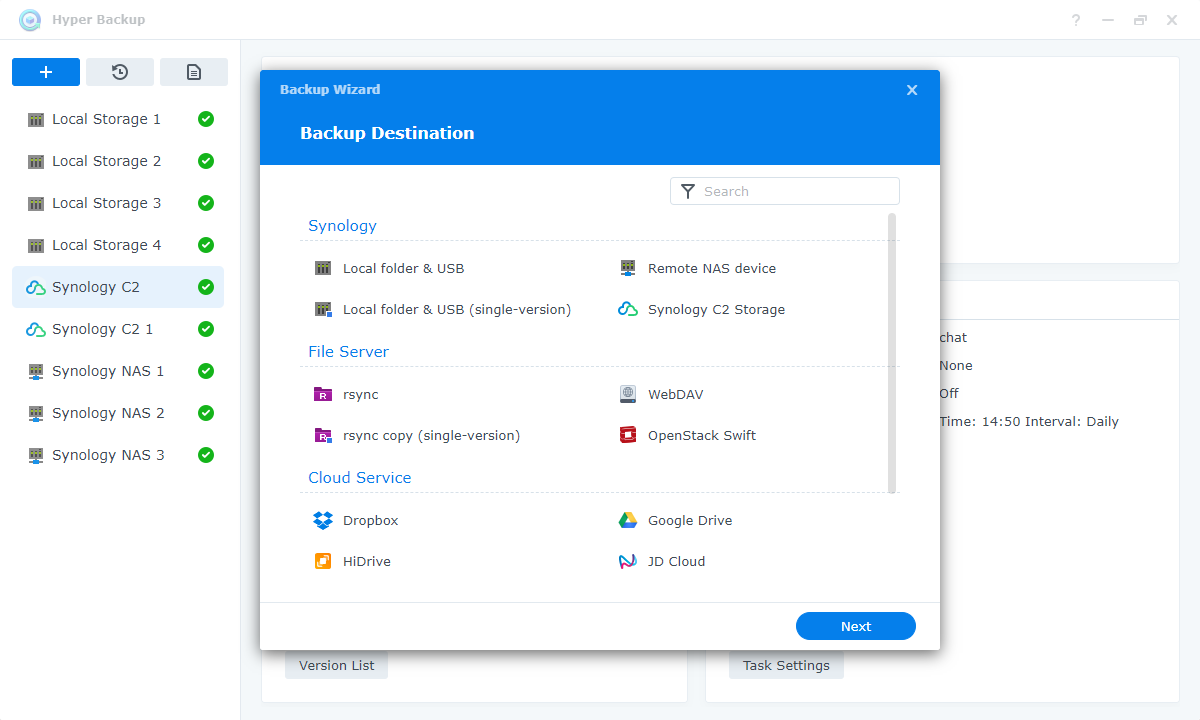 Windows backup via Synology Active Backup : If your business mainly uses Windows computers, you can use Synology Active Backup to back up data to a Synology NAS.
Install Synology Active Backup from Package Center.

Open Active Backup and click "Create" to start a new backup task.

Enter the credentials of the Windows computer you want to backup.

Select the data you want to backup.

Set up a schedule for automatic backups.

Click "Apply" to start your first backup.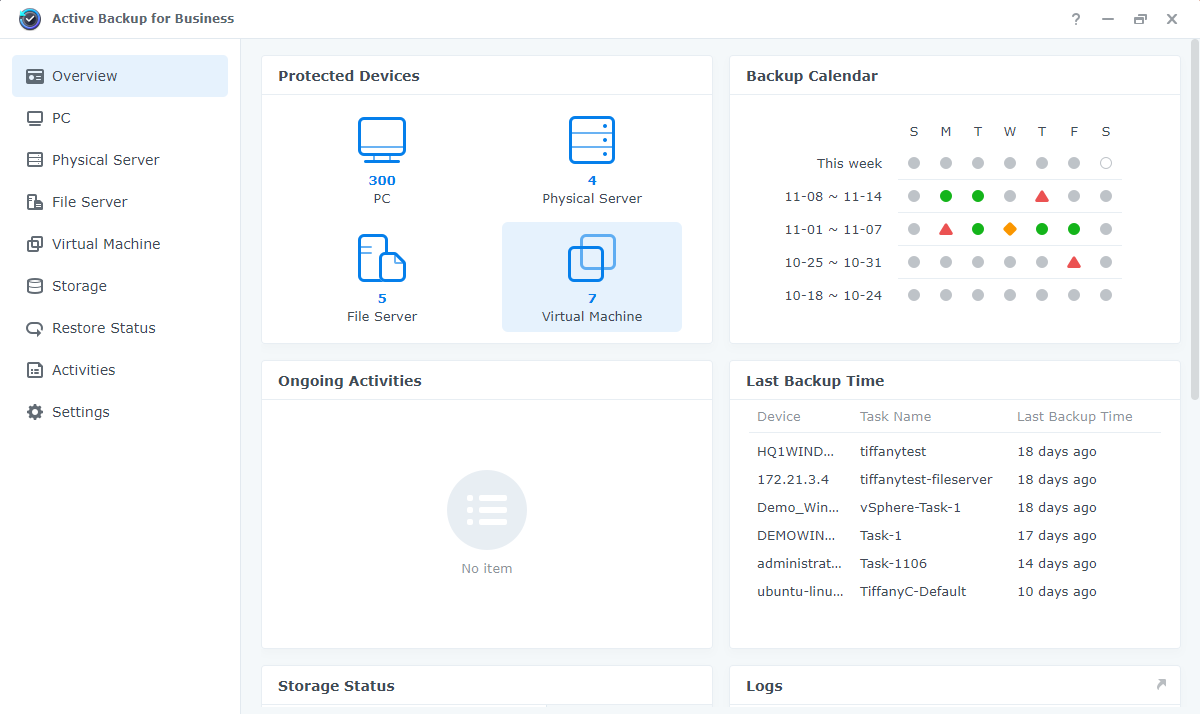 Mac backup via Time Machine : If your business mainly uses Mac computers, you can use Time Machine to back up data to a Synology NAS.
Make sure your Synology NAS is set up to work with Time Machine.

You can do this by going to Control Panel > Network Services > Bonjour Service and making sure Time Machine backup service is enabled.

On your Mac, go to System Preferences > Time Machine.

Click "Select Backup Disk…" and choose your Synology NAS from the list.

Select "Encrypt backup" if you want your backups to be encrypted.

Time Machine will automatically start backing up your Mac to the Synology NAS.
Remember, it's always a good idea to have more than one backup strategy in place to protect your data. For example, you could back up your data to both an internal Synology NAS and an external cloud storage service for extra protection. Precisely for this reason, with Iperius Backup you can create various integrated backup strategies, which increase the security of your NAS backup.
In fact, it is always advisable to also carry out an off-site backup, i.e. in a location other than the company headquarters. With Iperius you can make backups to NAS and then transfer the same files to multiple Cloud destinations, such as Google Drive, Amazon S3 (and any other compatible S3 storage such as Wasabi, Aruba, Backblaze, etc…), OneDrive, Azure Storage, etc. …
Finally, with Iperius you can also back up data on external disks or LTO tapes, to have an additional off-site copy to keep in a place other than the company, safe from natural disasters, thefts or ransomware attacks.
Download and try Iperius Backup for Synology NAS for free
(Italian)