There are many software for backup and replication of VMware ESXi virtual machines, but few have the completeness and versatility of Iperius Backup, combined with a great lightness and very low consumption of resources.
With a simple installation of a few MB, and consuming negligible resources in terms of memory and CPU, Iperius can backup and replicate virtual machines on unlimited hosts with full support for:
vSphere
ESXi Free
vCenter
ESXi Cluster
One of the most important things to underline is the extreme simplicity of Iperius licensing, which manages to offer top-of-the-range features at an unparalleled price. To understand these benefits, just read the following list.
From a single installation of Iperius Backup you can:
Backup and replicate unlimited ESXi or vCenter hosts (you just need to be able to reach them on the network)
Back up and replicate unlimited virtual machines
Do not have any limitations in terms of the number of VMs, servers or hardware characteristics
Back up to unlimited destinations: Other ESXi hosts or datastores, NAS, FTPS, SFTP, Cloud, Amazon S3, Google Drive, Microsoft Azure Storage, Dropbox, OneDrive, Backblaze, Wasabi, Aruba Cloud and any compatible S3 storage.
The characteristics that make Iperius Backup the best software for ESXi backup and replication can therefore be summarized as follows:
Lightweight installation, low cost and no limitation to the number of servers or virtual machines
Incremental backup of only used space on disk (thin provisioning) and incremental replication
Incremental backup also of ESXi Free
Incremental and forever-incremental replication

also of ESXi Free

Unlimited destinations
Now let's see in detail a simple tutorial on how to configure an incremental virtual machine replication, which is one of the most powerful and complete features of Iperius.
After downloading and installing Iperius on any Windows machine, you can immediately configure a backup and connect to a vCenter or directly to an ESXi host: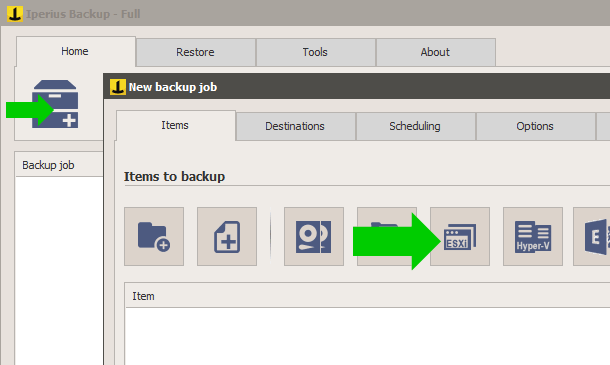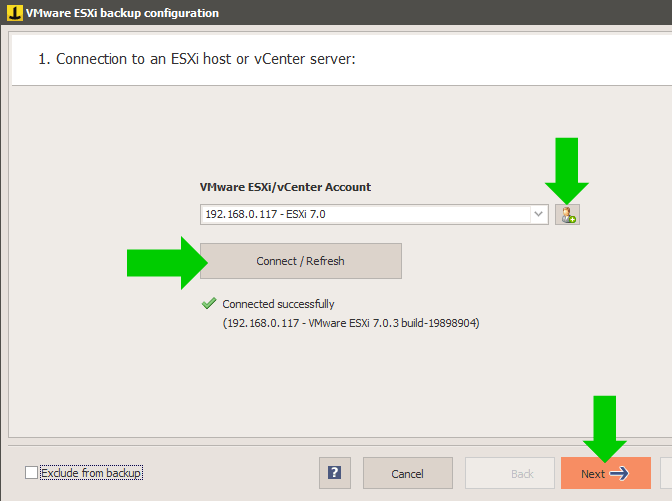 So you can select the virtual machines you want to replicate: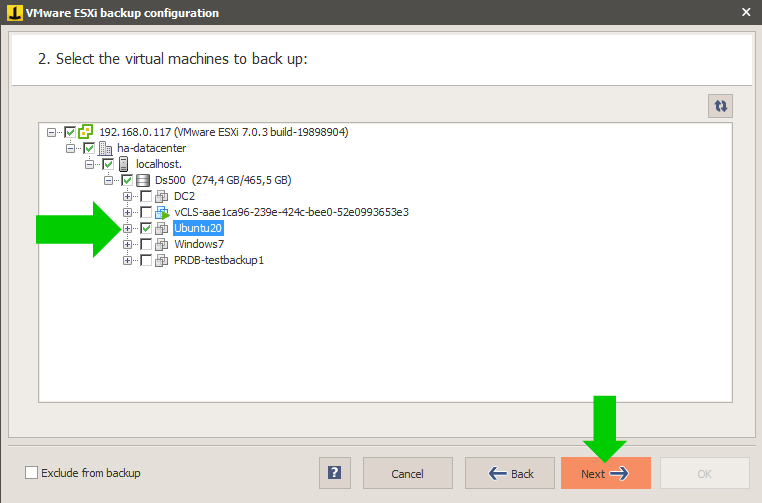 Move on to the next panel, where you can define the various replication settings: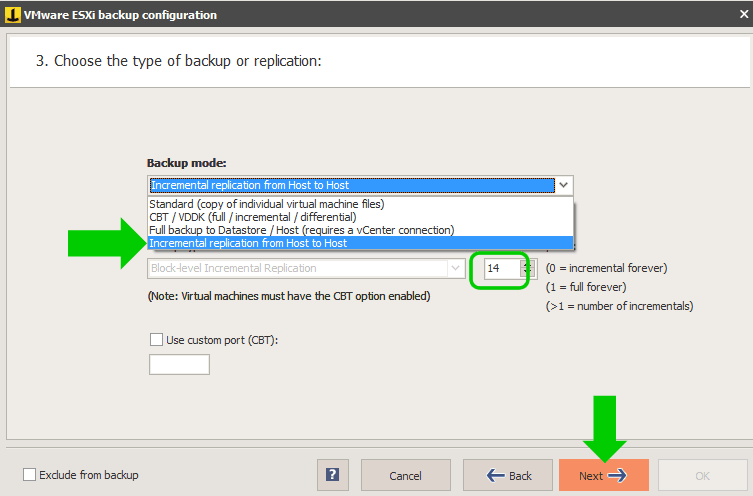 The recommended option is the default one, which is an incremental replication most of the time and a full one that is redone every 14 times.
If the replication is scheduled once a day, this will mean a full replication will be retried every 14 days.
You can also set a replication that is always full (which in this case will be slower) and a forever-incremental replication, i.e. the software will update the replicated machine forever only with the modified blocks.
You can then proceed to the next step, where you will have to specify in which datastore (and which host) to replicate: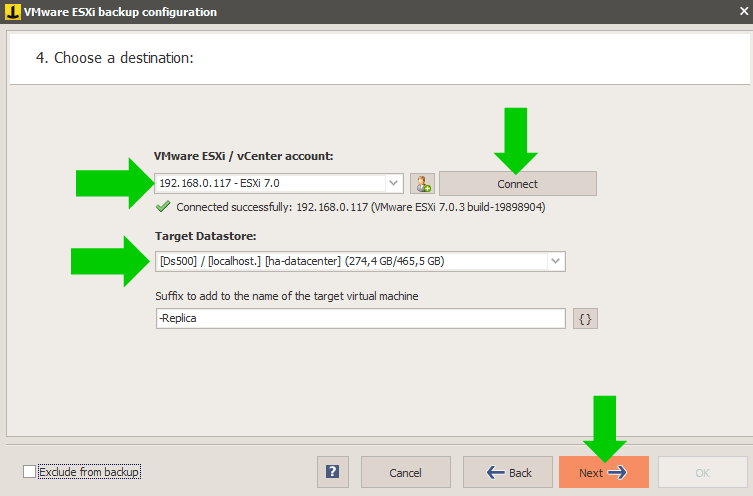 If it's a different host, you'll need to create another account and log in. Then you can select the destination datastore, taking care to check that there is enough free space.
In the last box, you need to set a suffix to add to the replicated virtual machine name.
Let's go ahead and save the replication configuration:
You will now have a new virtual machine replication item.
For the purpose of this simple guide, there is no need to make any other changes to the backup job, so we can go ahead and save it.
You can clearly set the schedule and email notifications, or run the job manually: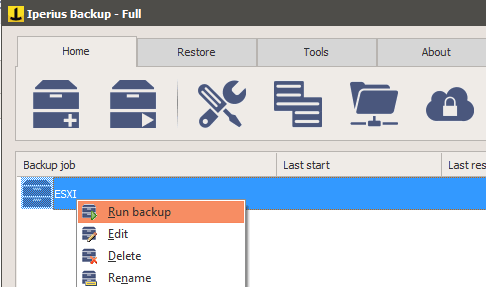 As we have seen in this simple tutorial, Iperius is an easy to use and very performing program for replicating VMware ESXi virtual machines.