Copying and synchronizing files and folders with Iperius Backup or any other backup software, sometimes it might happen the destination path of the files becomes too long to be handled by Windows (in fact, the maximum path length allowed by Windows Explorer is 255/260 characters). When a folder contains files with a path that exceeds the maximum path allowed by Windows, there could be errors in copying or deleting those files. Practically, that folder cannot be deleted anymore.
Long Path Eraser (LPE) is a free tool that allows deleting files and folders with too long paths, that you cannot delete manually. Long Path Eraser automatically deletes the folder you selected, including all its files and subfolders, regardless of their path length (even if they are in a network folder).
Download Long Path Eraser Free 1.2 (updated 14/06/2016)
As said above, it can happen that a copy operation creates paths longer than the maximum value you can handle manually by the Windows Explorer (http://support.microsoft.com/kb/320081/it). When this thing occurs, the folder containing files with long paths cannot be deleted anymore, consuming disk space and generating errors if you try to move or copy it manually.
Windows might show the following errors:
"Error cannot delete file: cannot read from source file or disk"
"Path too long"
"Cannot delete file or folder The file name you specified is not valid or too long. Specify a different file name."
"Cannot remove folder <folder_name> – the filename or extension is too long"
"File name too long"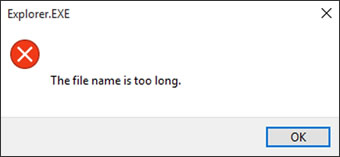 Long Path Eraser allows you to select the root folder from which start to delete all its content in a recursive mode, recovering the disk space, and finally solve the problem.
Long Path Eraser is a free software developed by Enter Srl (www.entersrl.net). It can be used by companies and freely distributed. Long Path Eraser is portable, so no installation is required, You simply need to start the executable file.
Download Long Path Eraser Free