Iperius Backup is certified for use with Wasabi Cloud Storage. You can use Iperius to back up your files, databases and virtual machines to Wasabi Cloud Storage using the S3 protocol.
Iperius Backup is one of the most complete backup tools for cloud backup. It supports backup to Amazon S3, Aruba Cloud, Wasabi, Minio, FreeNAS, and any other S3 compatible storage. Iperius also allows the copying of files to Google Drive, Dropbox, OneDrive and Azure Storage. Furthermore, Iperius is a powerful software to protect virtual machines (VMware ESXi, ESXi, Free, vCenter, Microsoft Hyper-V), mail servers (Exchange, Office 365) and databases (SQL Server, SQL Express, Oracle, MySQL, PostgreSQL).
Backup to Wasabi S3
First, Download and install the latest version of Iperius Backup (21-days free trial). Then follow the configuration steps below:
1. Create a new backup job and add the files, folders and other special items (drive images, ESXi or Hyper-V virtual machines, Exchange mailboxes, SQL Server databases, etc.) you want to back up to your Wasabi account: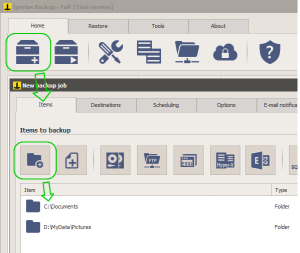 2. Add a Cloud destination clicking on the related button ("Destinations" panel)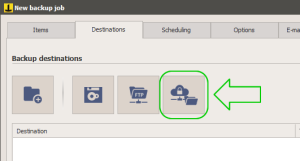 3. Add an S3 account, specifying your Wasabi credentials: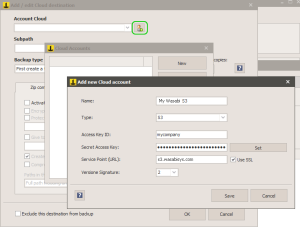 Enter the following parameters and credentials:
Service Point (URL): you can choose different addresses based on geographic location:
Wasabi US East 1 (N. Virginia): s3.wasabisys.com or s3.us-east-1.wasabisys.com
Wasabi US East 2 (N. Virginia): s3.us-east-2.wasabisys.com
Wasabi US West 1 (Oregon): s3.us-west-1.wasabisys.com
Wasabi EU Central 1 (Amsterdam): s3.eu-central-1.wasabisys.com
Access key ID: your Wasabi API access key
Secret Access Key: your Wasabi API secret key
Check "Use SSL" and set the signature version to 2.
Click on "Save" to validate the account and have it in the account list: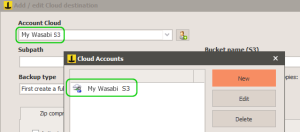 Close this window and go back to the cloud destination configuration.
4. Configure the backup parameters to store files to the cloud destination on your Wasabi storage space: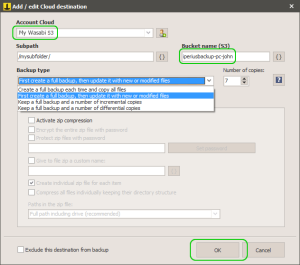 You will have to select the created account, then you can specify the bucket name, a sub-folder, the backup type (full, incremental, differential), and many other options (zip compression, AES 256 bit encryption, synchronization, etc.)
Click "OK" to save the destination and proceed. You can then configure detailed scheduling to make automatic backups and email notifications.
One you save the backup job, you can immediately run it to make a test:

Iperius will transfer all files automatically to your Wasabi storage space, in a fast and reliable way. An online backup is always a good strategy to protect your important data, since, taking them offsite, you can avoid unexpected data loss due to hardware failures, theft, fire or ransomware virus attacks. Wasabi Cloud is a reliable and affordable solution for cloud storage. With Iperius, you can maximize all its advantages.