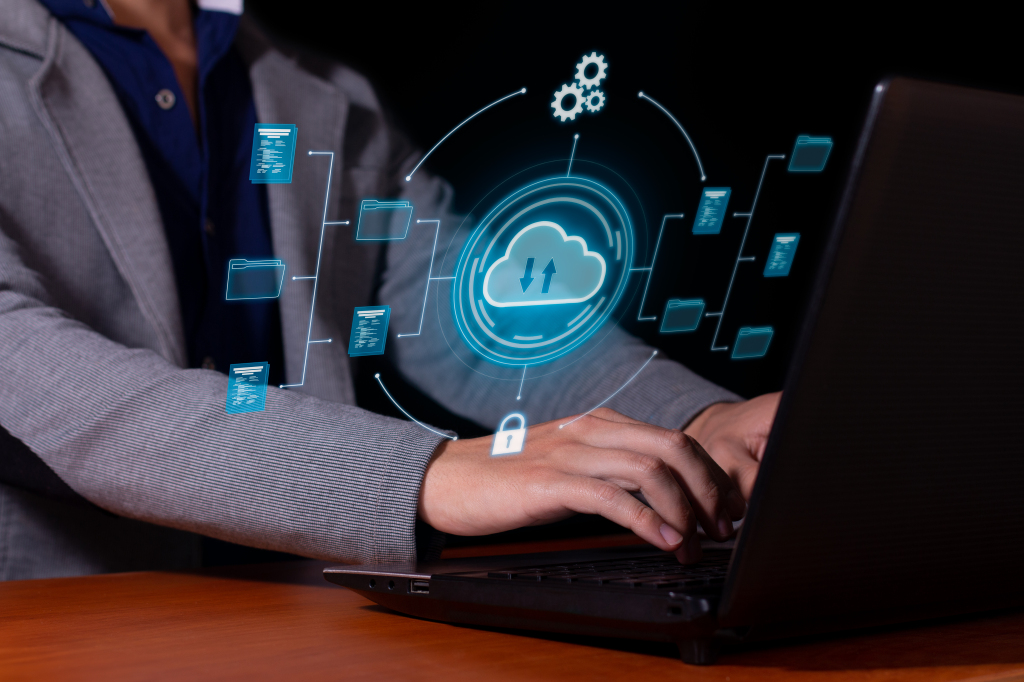 Every day, companies of all sizes become the target of cyberattacks, making the importance of knowing and protecting your data increasingly clear. In this context, understanding the difference between cloud storage and cloud backup is crucial. While cloud storage offers easy and immediate access to data, cloud backup provides complete protection against data loss. We explore these differences with a focus on Iperius Backup's offerings, including the proprietary storage solution,  Iperius Storage.
Comparison Table: Cloud Storage vs.

Cloud Backup
| | | |
| --- | --- | --- |
| Characteristics | Cloud Storage | Backup su Cloud |
| Main goal | Sharing and accessing files from different devices. | Data protection against loss, theft, or disaster. |
| Data type | Single files, often used for collaboration. | Complete system data, including files, applications, and operating systems. |
| Refresh rate | Update in real-time or on demand. | Regular backup scheduling, often automated. |
| Cost | Typically based on storage space used. | Based on the amount of data saved, features, and frequency of backups. |
Parameters when choosing a Cloud Storage:
When choosing a Cloud Storage service, it is important to consider the following elements:
Storage space needed

: Evaluate how much data you need to store and share regularly.

Data security

: Make sure the provider offers strong encryption and security measures that meet your needs.

Ease of access and sharing

: The service should allow easy and secure access to files, as well as flexible sharing options.

Integration with other tools

: Check whether the service can integrate with the applications and systems you already use.
Parameters when choosing a Cloud Backup software:
When choosing Cloud Backup software, consider the following aspects:
Backup coverage

: The software must be able to save all necessary data types, including operating systems and applications.

Automation and frequency

: The ability to schedule automatic backups and define the desired frequency is crucial.

Recovery and recovery

: Make sure the software offers flexible and reliable recovery options for different data loss scenarios.

Value for money

: Evaluate the total cost of ownership, including licenses, storage, and additional features.
Iperius Backup and Iperius Storage: A Complete Synergy
Iperius Backup stands out as a complete and flexible solution for Windows backup, designed to protect computers, servers, applications, and virtual machines. Offers:
Backup to Google Drive, Amazon S3, Wasabi, Backblaze, Azure Storage, Dropbox, and OneDrive.

FTPS, SFTP backup, 

and support for 

all S3 compatible storage

.

Microsoft 365 backup and restore

: Exchange Server, Exchange Online, and OneDrive (Office 365) with 

unlimited accounts and mailboxes

.

 Iperius Backup

perpetual licenses

, which guarantee continuous access to the software without recurring costs.
Why Choose Iperius Backup for Cloud Backup?
Choosing Iperius Backup for your cloud backup needs offers several advantages:
Complete Protection

: Iperius Backup doesn't just store your data;

protects them.

From ransomware protection to secure encryption, your data is safeguarded against threats.

Flexibility 

and Automation

: With support for a wide range of cloud storage backups and the ability to automatically schedule backups, Iperius Backup offers the flexibility and convenience of choosing the service that best suits your needs and automating the backup process. data protection

Unlimited Backup

: Unlike some services that charge per account or mailbox, 

Iperius Backup offers unlimited backups 

for Exchange and OneDrive, ensuring that your entire organization is protected 

at no additional cost.

Professional Service

: Iperius Storage is not just a storage solution;

is a professional service designed to meet the needs of businesses of all sizes.
Conclusion
Understanding the difference between cloud storage and cloud backup is essential for effective data management. While cloud storage offers accessibility and sharing capabilities, cloud backup provides a secure, recoverable copy of your data. Iperius offers solutions that adapt to both needs, ensuring that your data is not only accessible but also protected. With  Iperius Backup and  Iperius Storage, you can rest assured that your data is in safe hands, whether you are using cloud storage for collaboration or cloud backup for disaster recovery.