Iperius Backup allows to create and configure unlimited FTP accounts to automatically upload files to remote FTP servers or download files and entire websites using FTP, FTPS and SFTP protocols. The possibility to create multiple accounts gives the software a great flexibility, also allowing to create different backup jobs that can be run in parallel mode.
In the picture below you can see how to create a new FTP account while you're configuring an new backup destination (panel "Destinations"):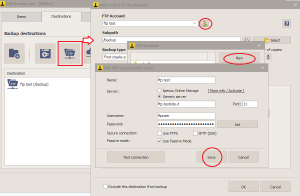 First click on the button "New" to create a new account.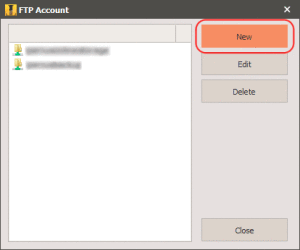 Now proceed to configure all the necessary fields: the account name, server address (can be an address like ftp.websitename.com or an IP address), port number (the default FTP and FTPS port is the 21, while for SFTP it's the 22), username and password.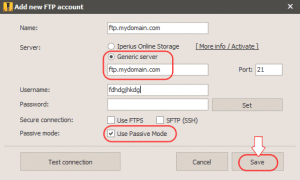 In the picture above you can see there is an additional option for the FTP server address. In fact, you can choose the Iperius dedicated service for online backups, Iperius Online Storage, using authentication data you received if you purchased this service.
Insert the password and its confirmation and click OK.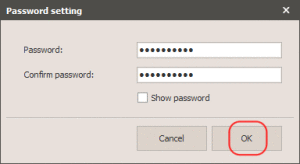 Finally, there are some other settings that must be explained: you can use the secure protocols FTPS (SSL) or SFTP (SSH), if your server supports one of them, and select the "Passive Mode" option to increase the compatibility with most firewalls (passive mode is enabled by default and it's generally recommended).
You can make a connection test to see if the account data are correct and then you can save the account clicking on the button "Save".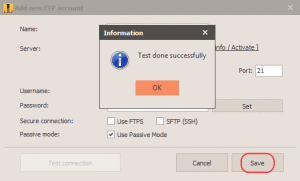 Once you've created the FTP account, this will be available for any FTP destination (or FTP download item) you will configure into Iperius, for any backup job.