Microsoft Exchange Online is a hosted messaging solution that offers the functionality of the Exchange mail server as a cloud-based service. It offers users access to e-mail, calendar, contacts and tasks from PC, Web and mobile devices. It is fully integrated with Active Directory, allowing administrators to use group policies, as well as other administrative tools, to manage Exchange Online features in their environment.
Exchange Online is a service that is part of the Microsoft Office 365 package, which is available in different plans to meet the needs of both small and medium-sized businesses and very large companies. Every user who accesses the Exchange Online service must be assigned to a subscription plan and each user subscription has its own mailbox. Folders and messages in these mailboxes are physically located on a computer running Exchange Server in a Microsoft data center.
See also: Backup of Exchange Online (Office 365) using Iperius Backup
The advantages of having an Exchange Online service compared to a local Exchange server (on-premises) are certainly to be found in the lower implementation and maintenance costs, and in the greater security and reliability that can be ensured by a professionally managed hosted service . Microsoft advertises its service as extremely secure, performing and reliable, thanks to integrated anti-malware and anti-spam filters, data loss prevention features (to prevent users from mistakenly sending confidential information to unauthorized persons), globally redundant servers and a guaranteed 99.9% uptime.
A more detailed description of the service features can be found on this page: https://docs.microsoft.com/en-us/office365/servicedescriptions/exchange-online-service-description/exchange-online-service-description
A comparison of the various Office 365 plans can be found in this page: https://products.office.com/en-us/exchange/compare-microsoft-exchange-online-plans
Let's see in the image below how easy it is for each user to manage their mail through the appropriate Outlook web interface: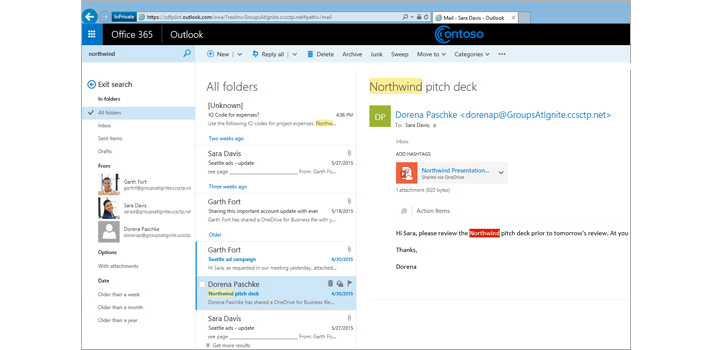 Exchange Online backup
Let us therefore move on to one of the most important aspects to be emphasized when we talk about mail servers and online services: the backup on local servers, to ensure a safety copy (for any emergency), the possibility of offline consultation of mail archives, and the compliance with the most recent GDPR and Privacy regulations.
There are several programs for backing up Office 365 and for backing up Exchange Online, but Iperius Backup is certainly one of those that offers the best value for money, while ensuring performance and maximum reliability. With Iperius it is possible not only to backup Exchange Online locally, but, with a single license, you can do it for unlimited servers and unlimited mail accounts, at no additional cost.
Configuring an Exchange Online backup with Iperius is very simple, and allows you to make local copies of mailboxes to .PST or .EML files, therefore in formats that are perfectly compatible with Microsoft applications. We can then open the .PST files created by Iperius also with Outlook and recover individual emails. Clearly, Iperius also allows you to restore mailboxes to the Exchange Online server, using a simple wizard.
For more information, read the related tutorial: https://www.iperiusbackup.net/en/office-365-backup-how-to-export-your-exchange-online-mailboxes-with-iperius-backup/