Making a backup to Google Drive is one of the simplest and safest ways to protect your files from hardware failure or ransomware virus attacks. This is a cloud backup mode (offsite) perfectly supported by Iperius Backup, which is one of the best software, for ease of use and effectiveness, to make compressed, encrypted, incremental or differential backups on Google Drive.
1. Why do you need a backup?
The answer is very simple: because your data is important and because having only one copy of it is not safe, and does not guarantee you won't lose them permanently. Backup is an essential procedure to ensure that your photos, documents or work are not irreparably destroyed by hardware failure or a ransomware virus. You must always have a plan B. And this plan B, by sheer coincidence, is the Backup.
Iperius Backup is a complete and reliable program for making backups to Google Drive.
2. What is Google Drive?
Google Drive is a cloud storage service available as part of the Google One suite and offered as a free product with 15GB of space, where users can save and share any type of document. The space is also shared with GMAIL. For those who need more space, Google offers subscription plans at very competitive prices, up to several TB (https://one.google.com/about/plans). Given the great reliability of Google and its widespread geographical distribution, you can be sure that your data are always available and safe. Moreover, you can have the two-factor authentication, which guarantees you to be the only one who can access your data.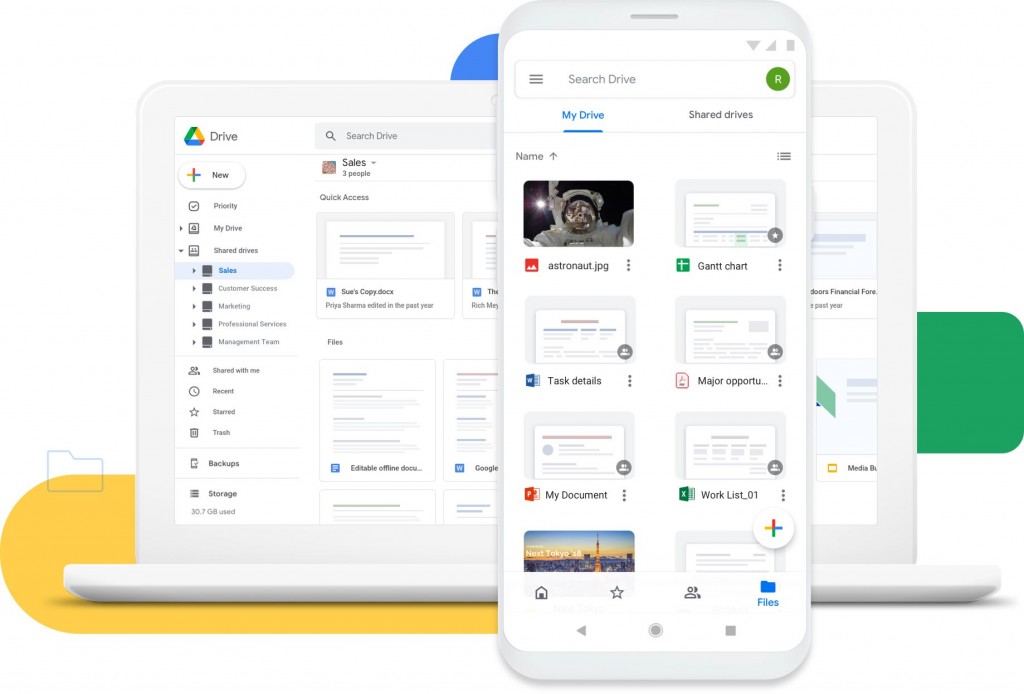 To access Google Drive, and therefore our files, all you need is a simple browser and / or any application that is authorized to use the Google API.
3. Why backup to Google Drive?
For the reasons we talked about in the paragraph above: low costs, reliability, safety and very high performance. Google Drive is one of the safest places to keep your backups.
4. How does a Google Drive backup program like Iperius work?
To make a backup on Google Drive, the safest and most efficient way is to use a specific software, such as Iperius Backup. In fact, a backup software like Iperius adds several important features to the simple copy of files on Google Drive. Let's see some of them:
Backup scheduling: You can back up every day, and even on a monthly basis, to make sure you have a larger history
Optional compression of backups: if for example you want to create backups by compressing them into zip files (perfectly compatible)
Optional backup encryption: if you need even more stringent protection, you can encrypt your files and protect them with a password
Incremental and Differential Backup: Allows you to have a history of all file changes and save time and space
Detailed reporting and email notifications: each backup creates a detailed log of what has been copied, and you can also receive an email notifying you of the backup
Constant monitoring and error detection: a software like Iperius allows you to have full control of backup operations and to be immediately aware of any errors
Absolute security: only Iperius can access your Google Drive, and all login information is encrypted. When the backup is completed, Iperius disconnects from Google Drive, which always remains safe.
Possibility of limiting the upload bandwidth to avoid overloading the internet connection
Ability to filter and exclude specific folders and files
With Iperius you can set up a backup on Google Drive in the so-called "set & forget" mode. Iperius will start up automatically and upload to Google Drive with maximum reliability.
You can retrieve your files at any time, both from within Iperius and by accessing Google Drive directly from the browser.
Going more into the technical, configuring the Google Drive backup inside Iperius is very simple, while there are some slightly more elaborate configurations to do by accessing the API Console inside Google Cloud Platform with your account. Here it will be necessary to enable the Google Drive API and create an App so that Iperius can connect to Google Drive using an authentication token. The first time you connect, you will be prompted for browser authentication (OAuth) For the various steps, we recommend reading the appropriate tutorial: https://www.iperiusbackup.net/come-fare-il-backup-su-google-drive/.
Finally, remember that Iperius is one of the most complete cloud backup software on the market, being compatible with many online storage services, including:
OneDrive
Azure Storage
Dropbox
Amazon S3
Backblaze
Wasabi
Aruba Cloud
IBM Cloud
Minio
Any S3-compatible storage
Any FTPS or SFTP server