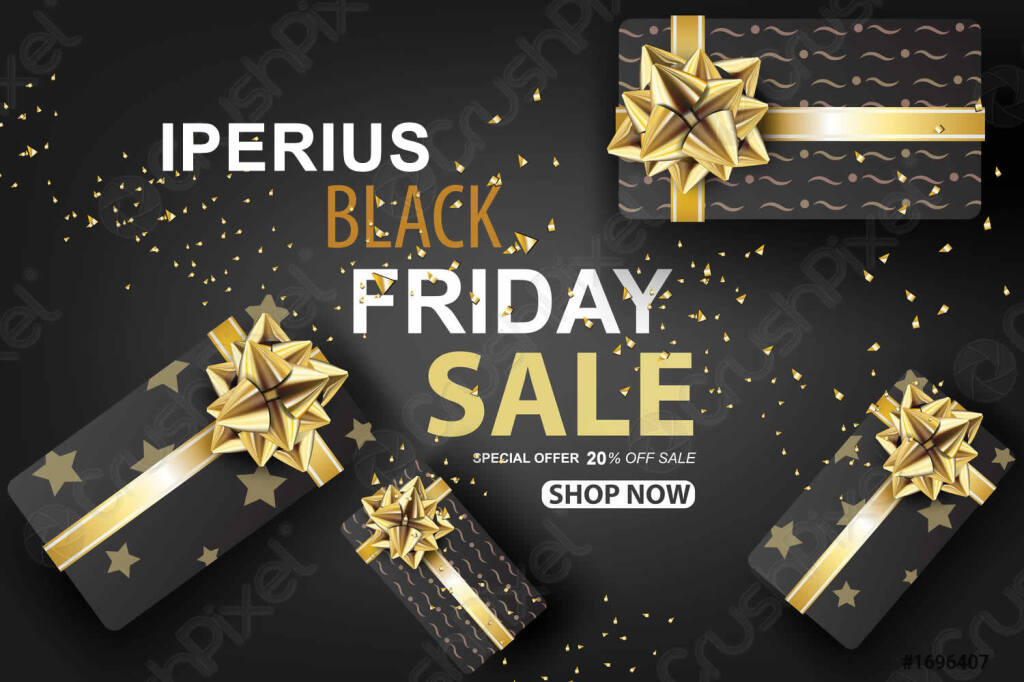 Black Friday 2023 week is super convenient with the Iperius product suite!
Much more than just a discount!
You can purchase Iperius Remote and Iperius Backup with one additional 20% discount, which adds to the already great convenience of Iperius' standard discounts.
Discover the surprise of the cumulative discount, if you are a reseller and/or purchase more than one license: you will have the reseller discount, the discount quantity and finally also the promotional code discount. Three discounts in one order!
Purchase a perpetual license now or renew your subscription
Take advantage of this now to renew your Iperius Remote license, or purchase a new license of our Remote Desktop and Remote Control software during the period best of the year.
Take the opportunity to purchase an Iperius Backup license at a spectacular price. The Iperius Backup license is perpetual and allows you an unlimited number of backups of virtual machines, disks, files, mail servers and Microsoft 365 accounts.< /span>
Here are the codes to use and the links to immediately go to the purchase page and automatically apply the coupon:
Iperius Backup: BF6499B9464FC
Buy Iperius Backup with the Black Friday discount code
Iperius Remote: IR650FA7DDE49
Buy Iperius Remote with the Black Friday discount code
As Black Friday 2023 approaches, it's the perfect time to upgrade your backup and remote access software solutions. And with Iperius' unmissable offer, you can now do it while saving! Discover the sensational 20% discounts on Iperius Remote and Iperius Backup, two indispensable tools for the security and efficiency of your IT systems.
Iperius Remote – Easy and Secure Remote Access
Iperius Remote is the ideal solution for remote support, management and maintenance of computers. During Black Friday 2023, take advantage of 20% discount to get simple, fast and secure remote access. Whether you need to assist a customer, work from home, remotely control your PC or simply manage your devices remotely, Iperius Remote is the solution for you.
Main features:
Unlimited remote devices

Multi platform: Windows, MAC, Android and iOS

Remote mobile device support: Control your phone remotely

Intuitive and immediate remote connection.

High security standards with end-to-end encryption.

Multiple management of remote sessions.

Fast and reliable file transfer, even with copy and paste and drag and drop

Video recording of sessions

Remote Printing

Unattended access

Shared address book and granular permissions

Custom client
Iperius Backup – Your Complete Backup Solution
Iperius Backup is a versatile and complete backup software, suitable for all your data security needs. During Black Friday, get 20% discount on Iperius Backup and ensure the protection of your data. From small companies to large enterprises, Iperius Backup offers a solution suitable for every scenario.
Main features:
Backup to cloud, NAS, and external devices.

Complete protection with incremental backup and disk image.

Compatibility with Windows Server and virtual systems.

Automatic backup scheduling and email notifications.

Backup them to Amazon S3, Wasabi and Google Drive

Backup di VMware e Hyper-V

ESXi Free Backup

Replica incrementale host to host

Backup in Microsoft 365

Mail backup

Backup di database SQL Server

Iperius RMM Console for centralized management
Why Choose Iperius This Black Friday:
Reliability: Products tested and approved by thousands of users.
Excellent Support: A team of experts always ready to assist you.
Ease of operation ;Use: Intuitive interfaces for problem-free use.
Constant Updates: Always at the forefront with the latest technologies.
Conclusion:
Don't miss the opportunity this Black Friday 2023! With the 20% discount on Iperius Remote and Iperius Backup, you have the opportunity to improve the management and security of your IT systems at an advantageous price. Visit www.iperiusbackup.com and www.iperiusremote.com to take advantage of this limited offer and join the many professionals who have already chosen Iperius for their backup and remote access needs.
(Italian)