LTO technology allows to store large amounts of data on magnetic tapes with a very low cost per GB.
The LTO tapes are now widely used especially in big data environments, where databases and virtualization require high capacity storage media, reliability and performances. The estimated duration of the media is about 30 years, which makes LTO tapes perfectly suitable for the storage of long-term data.
Iperius Backup allows you to save data to any LTO Ultrium tape drive, with capacities ranging from 100 GB up to 12 TB (which can be also increased thanks to the hardware compression). Iperius can then cover the backup needs of entire companies, with the maximum safety and speed and at a very low cost.
The Iperius license that allows to make tape backup is the Advanced Tape, at €146 (even for servers). License is perpetual and there is no annual renewal cost. Support and updates are completely free.
Iperius Backup Advanced Tape also includes the following important features:
Full, incremental and differential backups, with compression and encryption
Backup to Cloud: Google Drive, Amazon S3, Dropbox, OneDrive.
System image backup: you can create disk images to restore the entire system even on dissimilar hardware
Online backup FTP/FTPS/SFTP, with synchronization (deletion of old files), compression and encryption
Backup and synchronization to any mass storage device (USB, NAS, RDX, etc.)
Open file backup (VSS): you can copy locked or in-use files, such us mailboxes, virtual machines and databases
How to make a tape backup with Iperius:
Create a new backup job.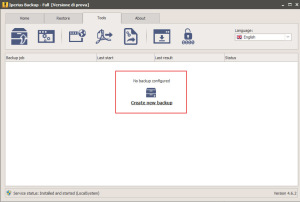 First you've to choose the items you want to back up, so select files and folders you want to copy on tape: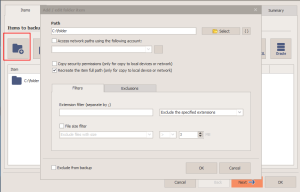 In the next panel ("Destinations"), click on the button circled by red in the image below to add a tape drive as a backup destination: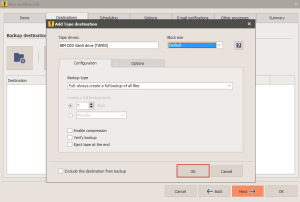 Select the tape drive to be used (you can have multiple tape drives installed on your server/workstation). Iperius can make multiple backups on different tape drives, even simultaneously.
The recommended block size is the default one. The maximum block size might help to obtain a better speed, while the minimum value allows to save some space on the tape.
Iperius also supports hardware compression, that allows to save space and increase the tape capacity. However, the compression rate depends on different factors, such as the average compressibility of files. For example, if you're backing up only already-compressed files, such as JPEG images, compression won't have any efficacy.
You can also choose the backup type (full, incremental, differential), to create a more complex backup strategy, keeping an history of file changes on multiple tapes. You will have a tape containing the full backup, and several tapes containing incremental or differential backups. However, for common or long-term data storage operations, the recommended mode is the full one.
Among the other options, you can also encrypt your backup, making it inaccessible to unauthorized users. An encrypted tape backup can be restored only knowing the encryption password.
Once you configured the various options, click OK to save the destination. In the next panel, you've some other options for your backup job. Generally you can leave them to their default values: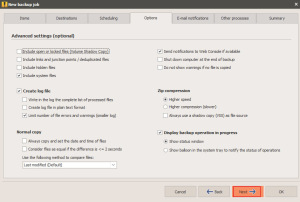 In the next panel, you can configure the scheduling, to run the backup automatically at specific days and times, the email notifications and the external scripts or programs to be executed before and/or after the backup.
In the final panel, you've to specify the backup job name and click "OK" to save it.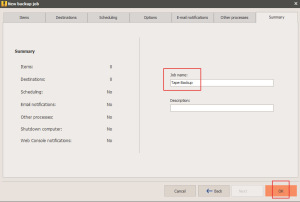 You can immediately run the backup right-clicking on it.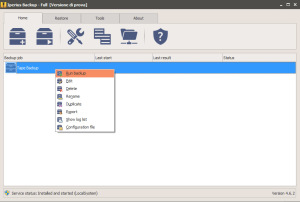 You can compare the various Iperius editions in this page.
Click here to buy Iperius Backup Advanced Tape
Update to support LTO-7 tape drives in Windows Server 2012 R2 and Server 2012:
On Windows Server 2012 and 2012 R2, you may need an hotfix to properly support the LTO 7 tape drives. Here is the link to the Microsoft site where to download it: https://support.microsoft.com/en-us/kb/3095711
Note on LTO6 support on Windows Server 2008 and 2008 R2:
Even on these systems may need a Microsoft hotfix to correctly support LTO 6 tape drives: https://support.microsoft.com/en-en/kb/2619836