Among the various Iperius functions, you've detailed scheduling options, that allow to run automatic backups according to specific days and times, and parallel backups.
Iperius scheduling is very simple and intuitive. It can be configured for every backup job and, if Iperius is installed as a service, several parallel backups can be scheduled at the same times.
When you're creating or editing a backup job, you can enable automatic scheduling checking the option "Run backup automatically…" in the "Scheduling" panel.
You can see in the image below the scheduling options provided by Iperius (click the image to enlarge it):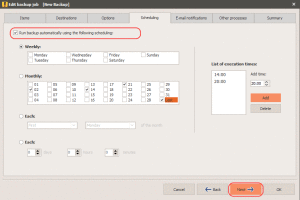 You can choose different scheduling types, based on days of the week, days of the month (also dinamically including the last day in the month), or specific days (e.g., the last sunday of the month).
The last scheduling type also allows to run the backup based on a specific interval, without setting times. The backup will be performed each time the specific number of days, hours and minutes have passed.
Instead, when you schedule an automatic backup on a daily, monthly or weekly basis, you can also enter multiple execution times. This allows you to perform the same backup several times during the same day.
If the pc is turned off at the scheduled time, the backup will not start automatically at the next pc restart, unless you pick the last Scheduling option.
The automatic backup scheduling is available in all versions of Iperius, including the Freeware one, without any limitation.
Finally, remember that Iperius can be automatically run also through the Windows Task Scheduler, since the software and related jobs can be launched also by command line. For more information, read the related tutorial.