There are many alternatives to AnyDesk among remote desktop and remote control programs, but the best AnyDesk alternative in terms of price/functionality, especially for professional use (i.e. for companies that provide remote support services to their customers) can certainly be Iperius Remote .
The comparison between Iperius Remote and AnyDesk is important as we are talking about one of the best software for remote access and remote technical assistance, which however may not be the best choice for all companies, both from the price than the features offered.
Iperius Remote is an alternative to AnyDesk that can also be used free of charge, but with important advantages for commercial use that should not be overlooked. Let's see below some essential points that should guide us in choosing Iperius Remote:
Why choose Iperius Remote:
1. Performance (up to 60 FPS) and security ( end-to-end encryption ) place it at the top of the category
2. You have all the important features for remote support, such as session logging, remote printing, custom client, unattended access, unlimited address book, etc…
3. Remote control of Android phones and devices and remote desktop from Android to Windows or MAC with a single, extremely powerful app!
4. The most transparent and convenient subscription plans , from just €8 a month: you only pay for simultaneous connections, everything else is unlimited !
The advantages of switching to Iperius Remote:
Easy to use interface and immediate operation:
Remotely controlling a PC with Iperius Remote is easy and immediate. You can start with the free version , which can be downloaded at any time by the remote user, then upgrade to the professional subscription plans if you need advanced features for technical support to your customers or for employees to work from home.
Activating the "unattended mode" is very simple. This allows you to have Iperius Remote always active even after restarting the system, in a completely automatic way. You can then connect and control the PC remotely at any time, without the need for user intervention. This feature is very useful both for accessing company servers from anywhere in the world, to check the status of systems or carry out maintenance interventions, and for those who have to work remotely, i.e. connect to the office PC without anyone being in front of them at the same.
A large number of functions and new features, always available with free updates for all customers:
With Iperius Remote you have all the features you need for any use of remote control software. These are included in all subscription plans and all updates are free. This means that if a new Iperius Remote feature is released, all customers can have it immediately available with a simple and free update.
Some of the most important functions of Iperius Remote:
Remote printing

Video recording of sessions

Ability to elevate the program remotely, to get administrator rights

Custom client with "full rebranding", which also allows you to change the icon and name of the software

Shared address book

Possibility of reversing the remote connection

Multi-monitor support

Multi session support: multiple operators can connect to the same computer

File and folder transfer (delta and incremental)

Multi-user chat

Remote desktop screenshot
Ultra advantageous subscription plans: from just €8 a month, you already have 2 simultaneous connections, unlimited hours and unlimited remote computers
Remote control and remote support software, especially for companies that use it professionally, can be a significant cost. There are several professional solutions on the market, but all the best remote control and remote access programs have the defect of limiting, often severely, the number of remote devices to which you can connect. This aspect, which may be overlooked at first glance, means that in real use, perhaps with a fleet of hundreds of customers, the costs become prohibitive.
AnyDesk is a widely used software worldwide thanks to the way it has approached the market over the years, i.e. with a very aggressive policy on the (very few) limits of the free version and on very advantageous prices compared to its major competitor, Teamviewer. Subsequently, some free use and pricing policies were changed, introducing different caps. For example, the cheapest version of AnyDesk has a monthly cost of €14.90, but allows only 1 simultaneous connection, the use of the license by only 3 devices (for Iperius Remote they are always unlimited), and there is a limitation also for the number of remote computers in standalone (unattended) mode. If we move to the Advanced license of AnyDesk, the cost goes up to €79 per month for just 2 simultaneous connections.
With the Iperius Remote subscription plans, on the other hand, you start from a Small version that already has 2 simultaneous connections and unlimited remote computers, even unattended ones, for just €8 a month. At a lower cost than the Advanced version of AnyDesk, with Iperius Remote you can even have 20 simultaneous connections. Substantial differences if we consider that for standard use, for remote support or work from home, the two software can be considered almost equivalent.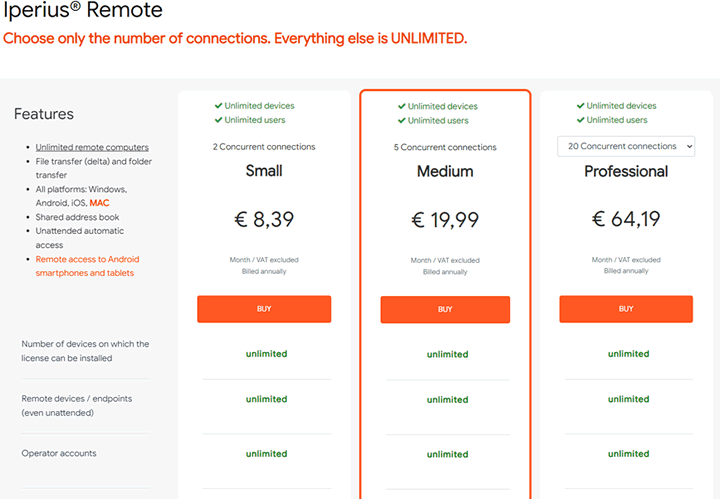 To make it the best alternative to AnyDesk, with Iperius Remote we have chosen to meet above all the needs of small and medium-sized businesses, which however may have a large customer base with several hundred machines. Thanks to a perfectly scalable server infrastructure and the optimization of all costs, with Iperius Remote it is possible to have licenses without uncomfortable limitations and indeed focused on the effective use of the bandwidth at full capacity. In practice, this means that Iperius Remote has extremely simple subscription plans, where the only thing you pay for is the number of simultaneous connections.
Therefore, if a company has 10 technicians who need to connect with customers at the same times, a 10-connection license should be opted for. All other parameters will be unlimited :
Hours of connection: unlimited

Remote computers and devices (even unattended): unlimited

Computers and devices in the address book: unlimited

Operator users: unlimited

Devices where you can install and use your license: unlimited
With Iperius Remote you know exactly how much you will spend, without limitations, hidden costs or surprises. This certainly makes it a preferable AnyDesk alternative in many situations.
Check out the subscription plans
Download the free version of Iperius Remote Desktop