Update Iperius Backup is very simple and it's totally free.
Open the software and , in the tab "Tools", click on the option "Program Update":

The AutoUpdate window will open and will download the update, once it ends the software will close and open again: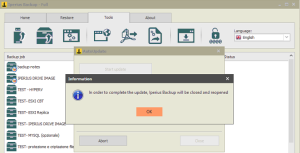 Iperius Backup is now updated!
It's possible to know the latest version of the software checking on the Change Log page (https://www.iperiusbackup.com/news.aspx) or by mail, subscribing to the newsletters (just sign-in on our website or, if you are already registered, edit your profile choosing the relative newsletters option). In this way you can be always updated about releases and news over all Iperius Suite products.
N.B. : If the Iperius Backup version is quite old or you have issue on updating the software, you can download the setup again from the website https://www.iperiusbackup.com and install it over the license you already have. In this way license , settings and configuration will be maintained.