To control an iPhone remotely with the Iperius Remote app , follow these steps:
Make sure you have the Iperius Remote app installed both on the device you want to control the iPhone from and on the iPhone itself.

Start the Iperius Remote app on both devices.

On the iPhone, launch the app and follow the prompts to allow remote access.

Once the iPhone is ready for remote connection, on the control device start the Iperius Remote app and select the option to connect to an iOS device.

Look for the iPhone in the list of available devices on your address book and select it.

Follow the instructions to complete the remote connection.

You will be asked to enter the ID and password or to confirm authorization on the iPhone device.
Once the remote connection has been established, you can control the iPhone remotely using the functions made available by the Iperius Remote app. This will allow you to navigate the device, view the screen, capture screenshots, record the screen and save a video file of the recording, and perform other operations remotely.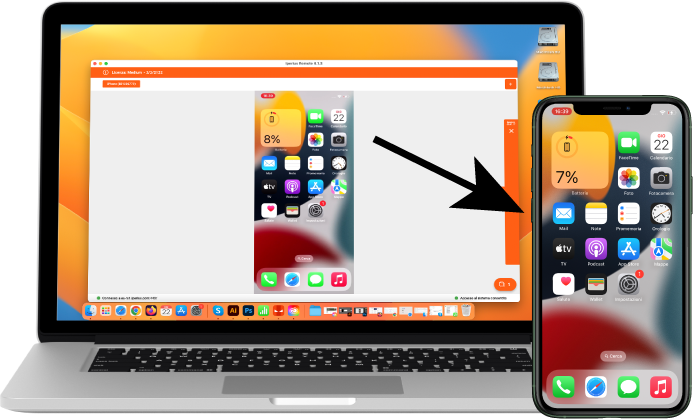 Please note that to use the Iperius Remote app for remote control of an iPhone, both devices must be connected to the Internet and configured correctly to allow remote access.
Install the Iperius Remote App from the Apple Store
Download Iperius Remote for Windows or MAC
(Italian)