This tutorial shows how to configure email notifications settings in Iperius. This function allows to send email notifications after the backup is completed, to one or more recipients and also depending on specific conditions.
This feature is very useful for safety and reliability of data protection procedures. Receiving a notification by email after the backup is completed, you will be always sure about the correct result of your backup.
Email notifications can be configured separately for every backup job (while email accounts are shared). In the backup job configuration, in the "E-mail notifications" panel, check the option "Send an email notification at the end of backup". Then insert email subject and recipients.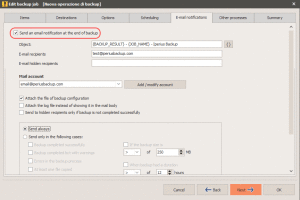 In the email subject you can use special variables, that allow to make it dynamic: you can automatically insert the computer name, the job name, and many other information.
Below you've to set an email account, to be used to send the notification email, just like a common Outlook or Thunderbird account. You can create unlimited accounts and use them in different backup jobs. In the picutre below you can see the typical data requested for an email account: sender email, SMTP server address, username and password, secure connection (you can also configure an additional POP3 authentication if your provider requires it).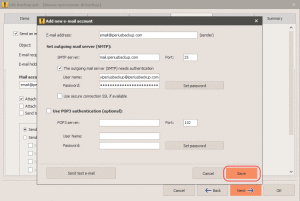 You can see in the picture below the typical configuration for a Gmail account (port 587 and secure connection SSL):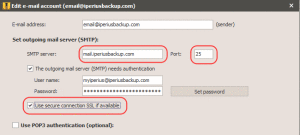 Once you saved the account, you can use it here and in any other backup job.
You can choose if send the email notification every time or only in specific cases. For example, you might want to receive an email only when an error is occurred, or depending on some other specific conditions.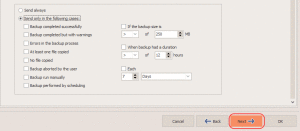 Finally, remember that, among the backup monitoring methods available in Iperius, you also have the Web Console, which is very useful when you've a large number of backups and installations to be monitored.