Iperius Backup supports the data encryption, as any dedicated software take into consideration, in order to guarantee the protection of the sensitive and personal data, as well as for the GDPR rule.
In this tutorial we described how the encryption woks and how to configure it inside the Job of Iperius Backup.
Instead, in this tutorial, we will explain the steps to follow for recover encrypted data, according to the protection option selected inside the Job.
Standard Protection
If in the Destination settings has been selected the option "Standard Protection", the data can be simply extracted by inserting the password, and it's possible using any compression software like  7-zip,  so also Iperius Backup.
In the tab "Restore" select the option "Restore from zip file":

Select the path of the zip file created by Iperius, the destination path where extract the data, and the protection password that has been configured inside the Job and then click on"Run the Restore"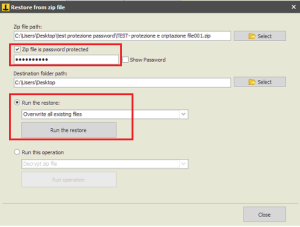 Encryption of the entire zip file
If you choose to encrypt the data in the backup configuration, the restore necessarily has to be done with Iperius Backup. In fact it's not possible to open the zip file directly with Winzip or 7zip, because it would give a corrupt file error.
First, the zip file must be decrypted.
Select "Restore from zip file" within Iperius Backup, specify the path of the zip file created by Iperius and the password used in the Job configuration, set the destination path where to save the decrypted zip file and run the Operation " Decrypt zip file "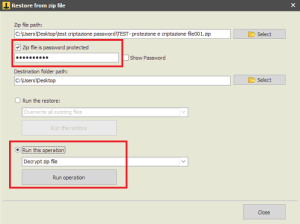 Once decrypted, the new generated zip can be opened with any data compression software as 7-zip, so also with Iperius Backup, selecting "Restore from zip file" and extracting the data as in the below image
Standard + entire file encryption
If both types of protection have been selected, first of all it is necessary to decrypt the data as explained in the previous paragraph "Encryption of the entire zip file", and then extract them by entering again the password.