Recent studies confirm that, even in 2021, about 20% of people who own a computer have never backed up personal or business data stored on the computer and external hard drives which are prone to corruption and accidental deletion or loss due to hardware failure or ransomware virus attack. Is it possible that one in five people run this risk with the security of their information?
The answer, unfortunately, is yes, even if the picture is slowly improving over the years. In any case, this lack of awareness can lead to the irreversible loss of data. For this reason, in this post we will try to understand the differences between incremental backup and differential backup, as well as the pros and cons of both of these methods for data protection.
Iperius Backup is one of the best software for incremental and differential backup of files and folders on NAS, external hard disks, FTPS and SFTP servers and in the Cloud (Amazon S3, Google Drive, OneDrive, etc …). In addition to this, Iperius can perform incremental and differential backups (CBT or RCT) also of VMware ESXi (including ESXi Free) and Hyper-V virtual machines.
What is an incremental backup?
An incremental backup is a data storage method in which only what has been changed since the last backup is copied. An incremental backup can be performed either after a full backup or after an incremental backup. Only data that has changed since the previous backup, be it full or incremental, will be added to the new backup.
What are the pros and cons of using incremental backup software?
One of the biggest benefits of creating an incremental backup to protect your data is that since only data that has changed since the last full or incremental backup is backed up, there are fewer files to back up than a full backup or differential, so the time to complete the backup is less than any other method. Furthermore, since there is less data to backup and it takes less time, also the possibility of errors occurring during the process, such as damage to the hardware or connection problems that lead to data loss, is less, therefore making an incremental backup is the safest method.
In addition to this, another great advantage of incremental backup is the possibility of having a "history" of all changes to certain files. In fact, if we backup on a daily basis, and there are files that are changed every day, we will find them in each copy of the backup, thus having all the versions of each day of the week.
If you want to do a complete restore, you will need to restore both the last full backup and the subsequent incremental ones, to have a set of data consistent with all the changes made to all files during the backup period. We can obviously perform a restore of the complete backup and of a specific incremental, to have the situation at that date. Having to restore all incremental backups sequentially to make sure you have all the data that was actually backed up can be considered a disadvantage in terms of the time it takes to recover the backup.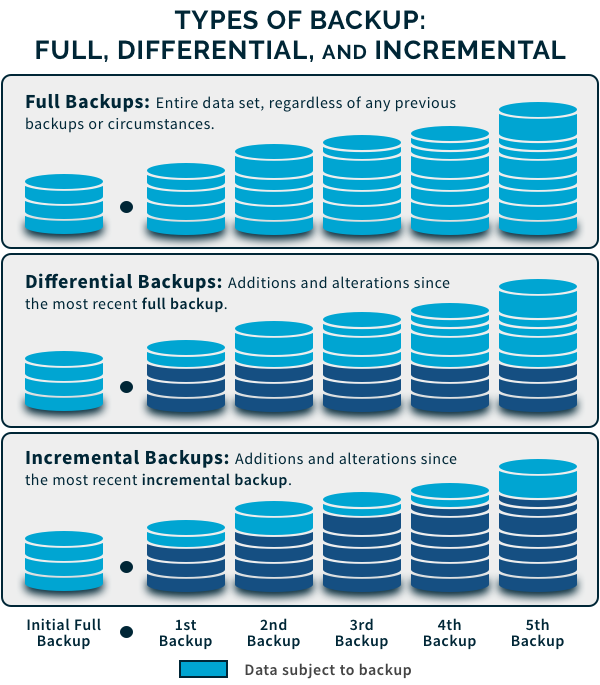 What is a differential backup?
A differential backup is similar to an incremental backup but it differs by saving all of the data changed since the last full backup only. Unlike incremental backups, which will save any changes done from previous full or incremental backup, differential backups will only 'look at' the last full backup to check what has been changed since then and save all of these changes.
What are the pros and cons of using differential backup software?
The main advantages and disadvantages of backing up data through differential backup software are almost exactly opposite to those of backing up data through incremental backup software. The 'pro' of this form of backup is that when it comes time to restore the data the process is faster and easier – and therefore the likelihood of errors occurring is lower – than with incremental backup as only the latest full backup and the latest differential backup must be used to fully restore the data.
The disadvantage of this form of backup does not only concern the redundant versions of the data created, but, when these are overwritten or deleted, the size of the last differential backup increases and this can cause the generation of a file that is too large and slow in the restore process.
What backup software should I choose?
Of course, the choice between using incremental or differential backups in addition to full backups depends on a number of factors, including the amount of storage space available for backups, the time available to perform the backup and the level of protection of the backups.
Ultimately, both of these methods of securing information have their pros and cons (as mentioned earlier), and we can recommend both of them for saving data. Many software that allow the creation of incremental and differential backups offer the possibility of doing both, such as the Iperius backup software (https://www.iperiusbackup.net/en/backup-types-with-iperius-full-incremental-differential/), therefore choosing one of the two methods or both for the protection of your personal data or company data takes a back seat when in any case the backup is performed in a simple, safe and fast way.
Iperius can back up to many destinations and even virtual machines:
Incremental and differential backup to NAS, external hard disk, network
Incremental and differential backup to FTPS, SFTP and Cloud:

Amazon S3
Google Drive
OneDrive
Dropbox
Azure Storage
Wasabi
Aruba Cloud
Backblaze S3
Any S3 compatible storage

Incremental and differential backup of VMware ESXi, ESXi Free and Hyper-V