With version 4 of  Iperius Remote (May 2022) several important features have been released. In fact, Iperius remote 4 is a software for remote control of PCs and servers, and a completely new program for remote desktop and remote support.
The changes compared to previous versions are substantial, and concern both the server infrastructure, now developed with highly scalable and geographically distributed cutting-edge technologies, and client applications, where in addition to the Windows version we now also have a remote desktop software for MAC which can be an excellent alternative to Teamviewer or Anydesk.
Finally, we have completely rewritten the apps for iOS and Android, making them extremely usable and responsive.
Here are some of the main new features of Iperius Remote 4:
New server infrastructure geographically replicated on five continents, with highly resilient and scalable architecture
Super improved performance thanks to native peer to peer (UDP) connection and best video transmission codecs (H.264)
New MAC version (Download Iperius Remote 4 for MAC now)
New iOS and Android Apps with bidirectional Copy & Paste support, smart cursor and quick shortcuts.
DELTA file transfer (Iperius copies only the modified parts of a file), ultra fast and peer to peer
Automatic and incremental transfer of entire folders
Ability to invert the remote control with a simple click, to share your screen
New multiple tab interface to easily manage multiple connections
New address book and new way of adding a computer to your address book (Client Account is no longer required)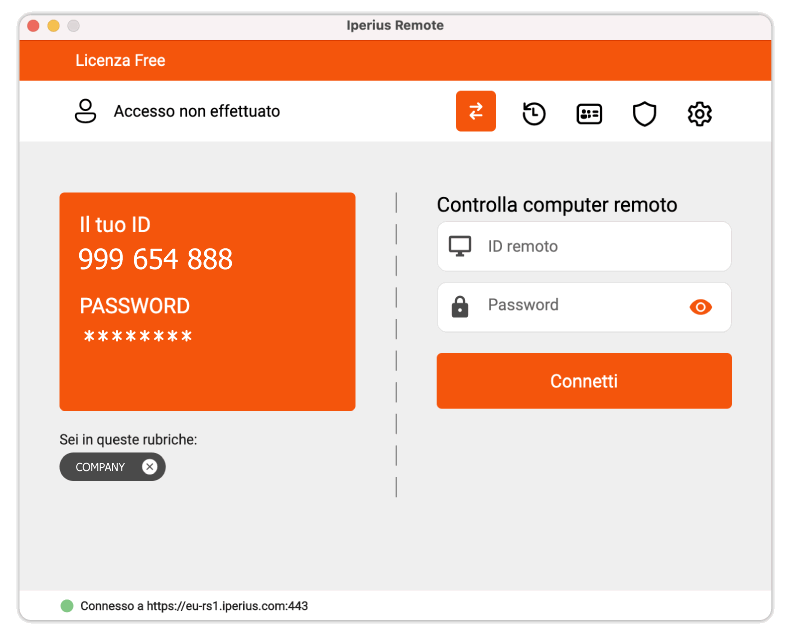 With Iperius Remote 4 you can connect in the following ways:
Remote desktop from Windows to Windows
Remote desktop from Windows to MAC
Remote desktop from MAC to Windows
Remote desktop from MAC to MAC
Remote control from iOS to MAC and Windows
Remote control from Android to MAC and Windows
Stay tuned, because we will soon also release the ability to connect TO mobile devices (from Windows or MAC to Android and iOS).