Iperius is one of the best backup software for Hyper-V, and with the recent release of version 7.8.3 it also introduces the possibility of maintaining multiple backup sets automatically, i.e. replicating the incremental and differential backup sets for multiple cycles of backup.
This is a feature that adds even greater flexibility to Iperius, since it avoids to invalidate the incremental backups of a previous set when you make a new full backup. Furthermore, with more backup sets you can have a longer history while maintaining more full copies.
A bug that prevented the correct display of Hyper-V virtual machine names when they contained Unicode characters (example: Chinese characters) is also fixed.
Hyper-V backup with Iperius: an overview
Protect your virtual machines with Iperius Backup
In today's technological landscape, virtualization is a fundamental aspect of any corporate infrastructure. Among the main players in the market, Microsoft Hyper-V stands out for its ability to easily create virtual machines to manage the most varied application needs. However, to ensure the security and business continuity of these virtual machines, effective backup and disaster recovery solutions are required. This is where Iperius Backup comes into play.
Iperius Backup: the ideal choice for Hyper-V backup
Iperius Backup is a complete and state-of-the-art backup software specifically designed for Hyper-V virtual machines. Here are five solid reasons to choose Iperius for Hyper-V backup:
Complete and cutting-edge

: Iperius offers incremental and differential backups of Hyper-V virtual machines using RCT (Resilient Change Tracking) technology, ensuring maximum efficiency and space saving.

The backup is performed hot, without any interruption of the machines.

Multiple destinations

: With Iperius, you can transfer your Hyper-V backup to any destination: NAS, FTP server, Amazon S3, Microsoft Azure Storage, Backblaze, Wasabi, Google Drive and any other S3 compatible storage.

Multi-level restore

: In addition to the automatic recovery of the entire virtual machine, even on different hosts, Iperius allows the granular recovery of single files (file-level restore).

Easy to use and extremely reliable

: Iperius combines an extremely simple configuration with the certainty of having a solid and highly reliable application.

Unbeatable value for money

: Iperius offers an unbeatable value for money: with a single perpetual license, it is possible to protect an

unlimited number of virtual machines

, without any limitations or hidden costs.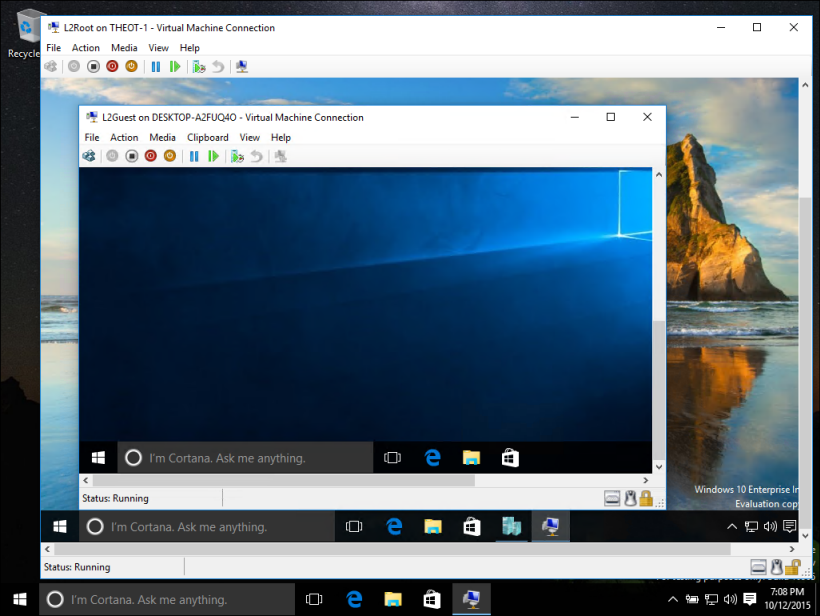 Main features of Iperius Backup for Hyper-V
In addition to the benefits mentioned above, Iperius offers a number of key features for backing up Hyper-V:
Automatic backup and restore of Hyper-V in

block-level

RCT (incremental and differential)

mode

.

Automatic recovery even from the network and on different hosts.

Thin-provisioning: saves only the actually used disk space

File-level restore (

single file restore

).

Extremely light and stable software.

Standard Microsoft formats

 (VHDX), to have always recoverable backups.

Simple to set up and schedule for automatic backups.

Forever incremental backup: you can create the first full backup and just patch it forever, or create an high number of incremental or differential backups
And furthermore:
Compatible with all versions of Hyper-V.

Incremental backup of Hyper-V via block level image.

Individual backup of virtual machine files.

Excluding specific disks or virtual machines.

One license for unlimited virtual machines.

Connect to unlimited Hyper-V servers from a single installation,

without the need for any agents

 (agentless backup).

Numerous destinations, including LTO Tape, NAS, FTP, CLOUD (Google Drive, Dropbox, Amazon S3, Azure Storage, etc.).

Complete utility with numerous other functions, including backup and replication of VMware ESXi and ESXi Free virtual machines.
How Hyper-V backup works with Iperius
Once Iperius is installed and started, you can immediately create a new backup job. Add a special item, Hyper-V backup, as shown in the screenshot below. The first thing to do is create a connection account to the Hyper-V server. To do this, click on the appropriate button shown in the image above. Creating an account is very simple: just specify the data of the Hyper-V server, entering the IP or the name of the machine and the credentials of a user with administrator privileges.
Once the account is created and saved, you can immediately connect to view and select virtual machines, exactly as you can see them in the Hyper-V management panel. Select one or more virtual machines and click "Next". On the next screen, select the Hyper-V backup type.
There are 3 ways you can backup:
Incremental or differential RCT (Resilient Change Tracking) backup

: This type of backup is very efficient, both in terms of speed (only the actual changes are copied) and in terms of saving space.

RCT backup is only available on Windows 10, Server 2016, Server 2019 and later, and is the recommended one.

Single block-level image

: This backup type creates a complete image that includes all virtual machines (disks and configuration files) in a single image file (VHDX).

This will be a backup that will automatically be updated incrementally, at a block level, whether the destination is a local or external disk.

Direct copying of individual virtual machine files

: In this mode, the software can directly copy individual disks and virtual machine configuration files.

With this mode it is also possible to exclude specific disks from the backup and you can even back up a Hyper-V host other than the one where Iperius is installed, therefore a Hyper-V backup directly from the network without the need for any agent.
For more information, check out the following guides :
Backup: https://www.iperiusbackup.net/backup-hyper-v-iperius-software-macchine-virtuali/
Restore:  https://www.iperiusbackup.net/restore-virtual-machines-hyper-v-rct-with-iperius/
File-Level Restore: https://www.iperiusbackup.net/restore-di-file-singoli-da-backup-drive-image-hyper-v-e-file-vhd-vhdx/
Conclusion
Iperius Backup is the ultimate solution for backing up Microsoft Hyper-V virtual machines. With its wide range of features, its ease of use and its unbeatable value for money, Iperius is the ideal choice for any company wishing to protect its virtualized resources. Don't wait, protect your virtual machines with Iperius Backup today!