With the latest releases of Iperius Backup ranging from 7.0 to 7.7.9, many new features have been introduced and various bugs have been fixed.
The main changes and fixes introduced up to version 7.7.9 are the following:
VMware ESXi backup: fixed a bug in VM configuration during restore that could cause problems on boot
VMware ESXi virtual machine replication: fixed a bug in the configuration of the target VM that could cause problems on boot
Backup on Google Drive: fixed an authentication error due to a technical update in the Google API. A new tutorial is available to create the application on the Google Drive API console: https://www.iperiusbackup.net/en/how-to-enable-google-drive-api-and-get-client-credentials/
Fixed a problem in listing Hyper-V virtual machines in the presence of a specific disk configuration
Fixed some compatibility issues in VMware ESXi backup.
Incremental replication of VMware ESXi virtual machines: now you can choose between forever-full, forever-incremental modes or decide whether to redo a full backup after a certain number of incremental. We remind you that Iperius is able to make incremental replications from host to host even with ESXi Free.
New authorization method to send notification emails after backup using GMAIL.
Backup to Google Cloud Storage: Fixed some disconnection issues when sending large files.
Exchange Online backup (Microsoft 365): Iperius now supports Modern Authentication for backing up mailboxes on .pst files
VMware ESXi backup: Iperius now fully supports the paths and names of virtual machines in unicode characters (example: Chinese, Japanese, Korean, etc…).
Exchange Online Backup (Microsoft 365): Some bugs fixed and significantly increased performance thanks to the new backup mode with multiple download jobs.
Iperius Backup is one of the best software for backup and replication of VMware ESXi and also ESXi Free virtual machines. It allows incremental and differential backup in thin provisioning mode, i.e. creating optimized backup files with only the used space on the virtual machine disks. You can keep any number of backups, and restore VMs to any given day or backup very easily. You can also restore single files.
Iperius is also the only software that supports the incremental replication of VMware virtual machines even on ESXi Free, and also directly from host to host, without the need for the vCenter (which is perfectly supported, as well as ESXi Cluster).
Finally, Iperius has a very high reliability and an extremely low cost. With a single license you can back up and replicate unlimited VMs that you can reach in your network. No hidden costs or additional costs per host or VM. To all this, you can also integrate backup to NAS or Amazon S3, Google Drive or other cloud or FTP spaces.
Click here to try or buy Iperius Backup for ESXi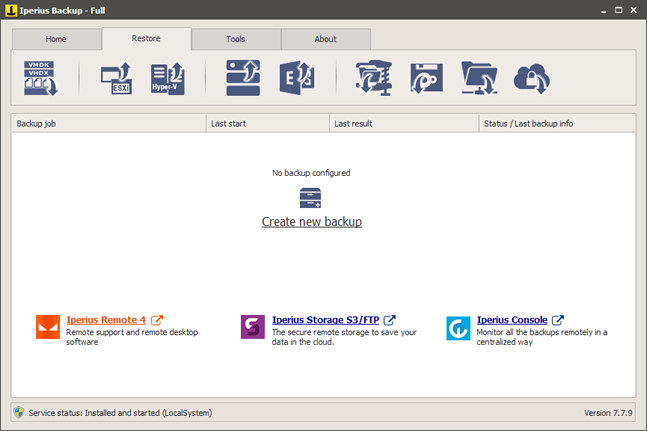 Below you can read a list some of the most important features that have been added since version 7.0:
Iperius Drive Image: added the "keep partition tables" option, which allows you to create a disk image with the exact partition structure of the original disk, regardless of the ones selected
USB removable drive format for recovery drive creation: Added options to convert drive to MBR or GPT and to convert file system to NTFS or FAT32 format.
Windows Drive Image: even on desktop systems it is now possible to decide whether the backup should be incremental or always full
Start of the program iconized in the traybar at logon: now Iperius is started with elevated privileges, so it is no longer necessary to restart the program if you need to perform operations that require administrative privileges
Compatibility with Windows 11 and Server 2022
The ability to specify custom pre-freeze and post-thaw scripts, for quiescing virtual machines with Linux operating systems, has been added to the ESXi backup
Added support for Aliyun OSS (Alibaba S3 Object Storage Service)
In Exchange on-premise it is now possible to specify a local path as the backup destination (previously it was possible to specify only network paths)
FTP and SFTP Backup: Added support for IPv6
Some other important features developed over the last 2 years:
Disaster Recovery: possibility to specify additional drivers to be included in the Recovery Environment, in the creation of the recovery drive (so for example in the bare-metal restore procedure it is possible to detect RAID devices).
Special Variables: \INDIVIDUAL_SUBFOLDERS\NEWEST_FILE_NAME or \INDIVIDUAL_SUBFOLDERS\OLDEST_FILE_NAME variables can be used together
XFS file system support (CentOS and RedHat virtual machines) in restoring single files from virtual machine backups (VMDK, VHD, VHDX)
In Hyper-V restore it is possible to restore single files even from incremental and differential backups performed with RCT mode
Backup support on BackBlaze (S3): https://www.iperiusbackup.net/en/backup-to-backblaze-s3-with-iperius-backup/
Compatibility with VMware ESXi 7
Support for TLS 1.2 encrypted connection in SQL Server database backup
Web interface to access online files on Iperius Storage S3: https://storage.iperius.com
Finally, some great features added to the Iperius Console:
Added periodic and summary email notifications for job status and system alerts
Improved the remote desktop connection via Iperius Remote
Added the ability to run processes on remote computers
You can download the latest version of Iperius Backup from the official website: https://www.iperiusbackup.com