Iperius is a powerful and versatile software than can easily make backups to/from network devices.
The following tutorial shows how to make a backup to NAS, even from Windows Server 2008 and Windows Server 2012 operating systems.
Iperius Backup support any NAS device (FreeNAS, QNAP, Buffalo, Netgear, Synology, D-Link, Thecus, etc …), and it's one of the best software for network backup, thanks to its speed, ease of configuration, flexibility and low resource consumption.
In the program main window, create a new backup job: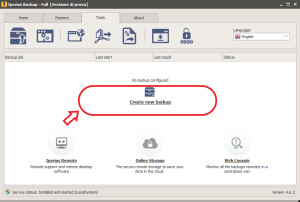 Add folders and files you want to copy on the NAS (you can add an unlimited number of folders and files):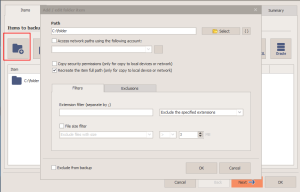 As you can see in the picture above, for each folder you add, Iperius allows you to configure many options and filters. You can choose to recreate the entire path, exclude specific files depending on their extension or size, exclude specific subfolders, etc.
In the "Destinations" panel, add the path to the shared folder on the NAS device.
You can type the path manually or select it using the dedicated button.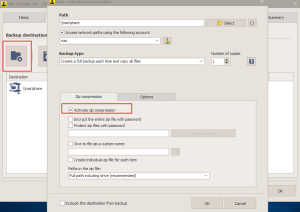 As shown in the image above, you can configure various options for this destination: backup type, zip compression (with password protection or whole-file encryption), synchronization (to automatically remove old files from your backup). You can also choose to create a separated zip files for each source item you selected and specify an account to authenticate automatically in the network share.
In this example we enabled zip compression and selected the first backup type available (the full one). Then, we set the number of copies to 3. In this way, you will always have the latest 3 full backups (3 zip files) that will be overwritten in rotation.
In the next panels you can configure some other important options for this backup job: scheduling and email notifications (respectively to run automatic backups and to be always informed about the backup result and possible errors). In order to configure these options, read the related tutorials:
How to schedule automatic backup  –  Configuring email notifications
In the final panel, choose a name for the backup job and click OK to save it.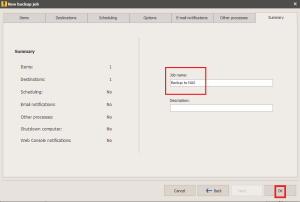 Once you saved your backup job, you can immediately see it in the list and run it by a simple right click.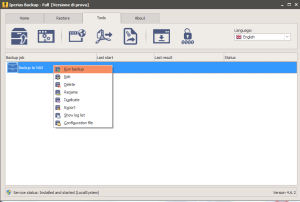 Iperius is a flexible and highly configurable software to make network backups. You can use Iperius to create complex backup strategies to save you data to NAS devices, FTP servers and cloud storage services. You can create multiple backup tasks to back up all the workstations in a network to a central server automatically. Iperius allows you to easily configure incremental, full or differential backups, to use advanced options such as zip compression, AES encryption, creation of custom folders thanks to the special variables, execution of external processes and scripts, and the possibility to schedule parallel backups.