Starting with version 6.0 of Iperius it is possible to create a recovery disk to start the machine and restore a drive image backup created by Iperius (on .VHD or .VHDX file).
Let's talk about a USB recovery drive or an .ISO file that can then be burned to a CD or DVD. The recovery unit will contain Iperius Recovery Environment®, which is a wizard that will start up when the machine is booted and will allow to perform a bare metal restore of a Iperius drive image, even on different hardware.
In this tutorial we will see the few simple steps to create a recovery disk for Windows 10, but clearly you can perform this procedure for any Windows 32 or 64 bit operating system, starting with Windows 7 and up to Windows Server 2019.
To open the recovery disc creation window, click on the button shown in the image below, in the "Tools" menu: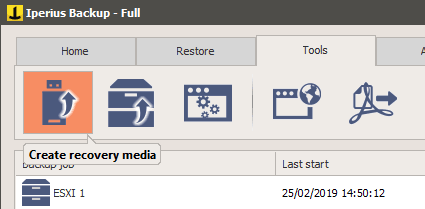 As you can see in the image below, you have to select only a few simple options: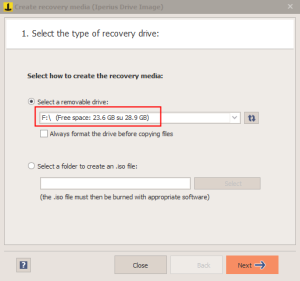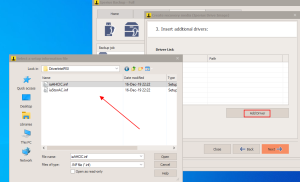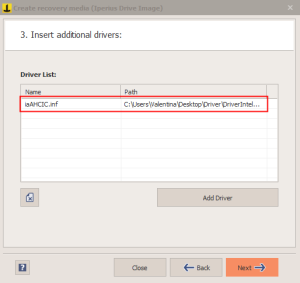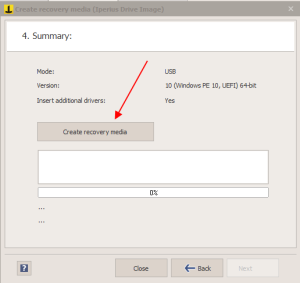 In this example, we're creating the recovery environment on a normal USB stick. This will be automatically detected by Iperius if already inserted, otherwise insert it and click the button to update the drop-down list. Otherwise we select a local folder to save the ISO file.
Once the removable drive has been selected, the other thing to select is the type of architecture of the target machine (UEFI or BIOS), 32 or 64 bit. For newer operating systems we suggest selecting "Windows PE 10″.
Furthermore in the version 7.3.0 of Iperius backup you can load, if necessary, additional drivers to use inside the Recovery Environment procedure.
Then proceed to the creation of the recovery drive by clicking on the button shown in the image above. The process will take several minutes, since the contents of the recovery disk will be automatically downloaded from the Iperius servers, then unpacked and written to the USB drive. It is very important to remember that this procedure irrecoverably deletes any data on the USB device, so make sure that there are no important files on this.
If, instead of creating an USB recovery drive, you want to create a recovery CD, just select the mode that allows you to create an .ISO file. This must then be burned to a CD or DVD using any burning software. This will allow you to boot from the optical drive, which can be useful on older systems.
Once the recovery drive creation process is complete, you can immediately insert the drive into the machine where you want to run the image restore, and then start it with the Iperius Recovery Environment® system.
To see how to restore an image backup with this mode, see the related tutorial.