Beginning with version 6.0, Iperius has introduced a new drive image engine, able to perform full backups of entire hard drives, which can then be restored using the Iperius recovery disk and Iperius Recovery Environment®.
This new feature makes a perfect copy of a disk and its partitions, and it is therefore possible to consider it as a real cloning of the disks.
Iperius therefore allows to clone the hard drive of a computer where it is installed for example Windows 10 or Server 2019, and this cloning allows you to have an identical copy of the disk that can be used for backup / restore, or simply to clone a Windows installation on a different disk or on a different machine, even with different hardware.
Iperius is therefore both a backup software and a disk cloning software. In performing cloning operations, the contents of the first hard disk (including the logical structure of its partitions) are transcribed into an image file (VHDX). The second disk is created on the basis of the content of this image. It is therefore an operation that must be done in two steps with Iperius. In the first one the image file will be created. This image file can be used immediately to start the system on a Hyper-V virtual machine (instant-restore, P2V), or to re-image a new disk, by booting the machine with Iperius Recovery Environment®. The difference between an image backup and a disk cloning is therefore minimal, even though there are differences in the structure of the image file and in the possibilities of restore.
To see how easy it is to create an exact copy of your hard drive, consult the relevant tutorial: https://www.iperiusbackup.net/en/drive-image-backup-p2v-disk-cloning-iperius/
To see how to clone the image on a new disk, just follow the tutorial for the restore: https://www.iperiusbackup.net/en/restore-drive-image-backup-system-recovery-with-iperius/
This system can also be used to clone a Windows installation that must then be replicated identically on different machines. For this operation, we recommend an in-depth study on the use of SysPrep, a Windows tool that allows you to make generic an OS installation, starting from the relative tutorial: https://www.iperiusbackup.net/en/sysprep-cloning-and-deployment-of-windows-installations/
If you want to clone the Windows hard disk to move it to an SSD, it is important to consider that the destination disk must have a size at least equal to that of the source disk, regardless of the size of the image file (which corresponds to the actual used space on the source disk).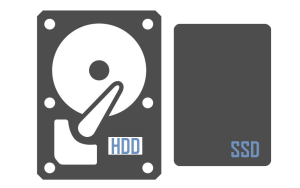 A software to clone hard drives and SSD drives is definitely the best way to protect the most important data, creating a perfect local copy (or in Cloud, on Google Drive, Amazon S3, etc.) of a complete image of the disk. Recovery using the Iperius recovery disk is very fast and can also be done on different hardware. This saves a lot of time in case of ransomware virus attacks or system crashes, since it is possible to restore the operating system, configurations, files and programs in bulk, without having to perform any installation again.