The VMDK is an open file format, created by VMware and mainly used for cloud computing and virtualization services. Basically, the .vmdk files are virtual disks, which contain all the information of a VMware virtual machine. There are different types of .VMDK files, those related to virtual machines on VMware Workstation Player and Virtualbox, which are single VMDK files, and those related to virtual machines on VMware ESXi servers, which instead are composed of two separate files: a descriptor of the virtual disk and the extension of the virtual disk containing the data (which has the suffix -flat in the name).
So what is a VMDK file? We can consider it, when detached from a running virtual machine, as a sort of archive containing other files. So there are programs that allow you to open or mount VMDK files, explore their contents (like a common zip archive) and extract individual files or folders. This operation, as well as with VMware Workstation Player, can be done with different applications (just because the VMDK is an open format), such as Winzip, 7zip, PowerISO, etc …, however, one of the most simple and quick ways to extract files from a VMDK virtual disk is to use Iperius Backup. The functionality is also available in the free version of Iperius. We therefore have a free software to extract the content of a VMDK file.
Clearly, Iperius is also a software for backing up VMware ESXi virtual machines, and therefore the procedure for restoring individual files from VMDK virtual disks is part of this functionality. Iperius can perform incremental and differential backups of ESXi (and ESXi Free) virtual machines using the CBT / VDDK methodology, and can therefore create different recovery points for a virtual machine. The single-file restore procedure can be done starting from a specific incremental, differential or full backup, made on a specific date.
See also: Backup of virtual machine on VMware ESXi, ESXi Free and vCenter with Iperius Backup
The possible procedures for opening VMDK files, or backups of ESXi virtual machines created by Iperius, are the following:
Opening a single .VMDK file
Opening of the .VMDK descriptor file, in whose folder there is also the corresponding file with the suffix "-flat.VMDK"
Opening an .IBD file (Iperius disk file resulting from an ESXi backup, which can be full, incremental or differential)
Let's see how easy it is to open a VMDK file with Iperius and explore its contents.
Go to the "Restore" menu and click on the button shown in the image below:

Then select the .VMDK file using the appropriate button and click on "Open" ::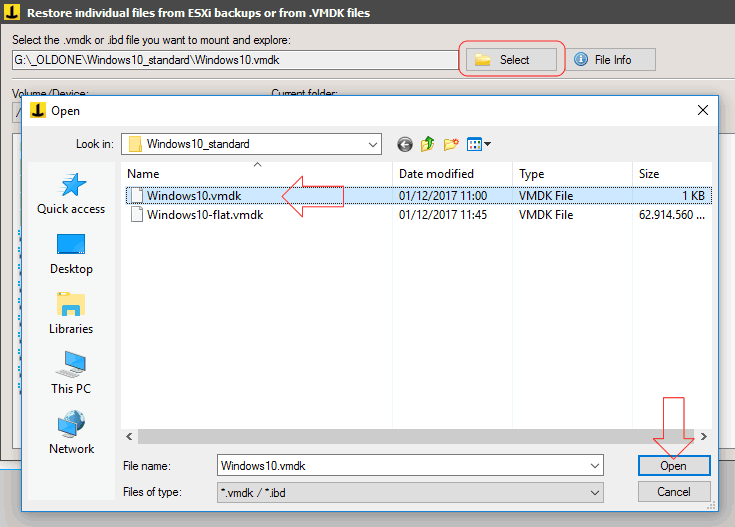 If instead you want to restore individual files from an incremental ESXi backup created by Iperius, the file you will have to select is an .IBD file. As shown in the sample image below, an incremental backup (CBT) of a VMware ESXi virtual machine will consist of several numbered folders, each one containing an .IBD file, corresponding to a full, incremental or differential backup made on a specific date: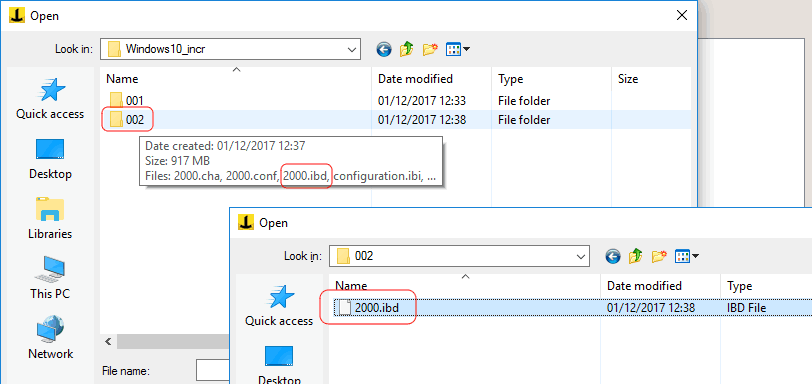 Iperius will immediately show the content of the VMDK (or .IBD) file, allowing the selection of the various volumes it contains. To access the files or folders you need, select the right volume and see if the folders it contains are those of the disk you are interested in: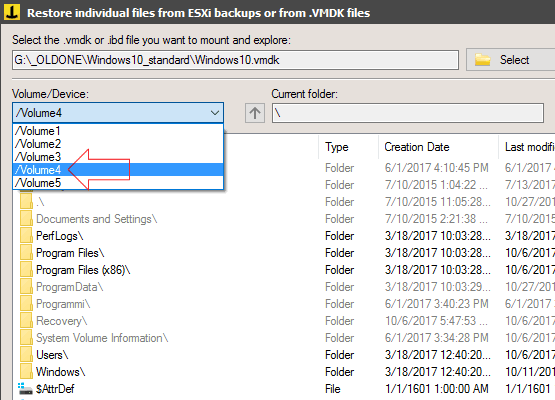 At this point, extracting files and copying them to a local folder will be very easy. Just click on one or more files or folders to select them, then right-click and  "Extract":

Select the folder where to extract the files and click "OK". File copying will start. The time required to extract the files will obviously depend on their number and size.
For more information on Iperius Backup and how to use it for backup of virtual machines, files and databases, go to the official website: https://www.iperiusbackup.com