Starting from version 3.6.0, Iperius Remote has a new graphic interface.
The same powerful features, but with a renewed, simple and intuitive interface.
Let's find out together the differences from previous version.
The graphic differences are immediately evident:

Going more deeper, we notice some small differences either in functionalities either in the buttons connected to the various features:
The enabling of the Service (the automatic start for unattended connections) is possible now by clicking on "Start Iperius Remote with Windows" at the top right, and no longer with the button that was previously at the bottom.

As usual, when you proceed with the installation of the Service, the software closes and reopens again as soon as the Service starts successfully. At this point, the link text will change to "Disable automatic start"
The three buttons "History", "List of Clients" and "Statistics" are now located below the "ID to which to connect" field and maintain the same functionality as the previous version

At the bottom left there are information about:
The Master/Client account, in case of a paid license, so with an account set up;
Indication of the Free license
If there is a Master or Operator account set up, there will be also a link to access the Web Administrative Panel (where you can configure remote computers, users, computer groups and all access permissions, as well as the ability to consult statistics). Otherwise, if we are using a Free license, there will be a link to go to the Shop page.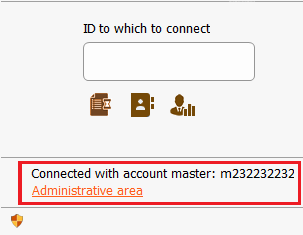 Finally, at the bottom right we find the "Update" (to update Iperius Remote to the latest version), "General settings" and "Info" buttons, also in this case only in a different position but with the same functionality.


In addition to the renewed graphics are:
Improved connection performance and usability;
Faster and more efficient history;
Improved reconnection algorithms in case of disconnections;
Optimization of existing features;
To update Iperius Remote just click on "Update" from the software Home or from the toolbar of the remote control window. The software will automatically close and reopen once updated.