Iperius is a software for backing up VMware ESXi, ESXi Free, and vCenter virtual machines, and also allows you to perform incremental and differential backups using CBT / VDDK technology even on ESXi Free.
In addition to having powerful features for restoring virtual machines (such as performing a complete restore of a VM from a specific incremental or differential backup, and therefore on a specific date), Iperius allows you to restore individual files from an ESXi backup. Restoring individual files or folders can be done from a .VMDK file or from an .IBD file (which is the file format created by Iperius).
See also: Backup of virtual machine on VMware ESXi, ESXi Free and vCenter with Iperius Backup
This is a very convenient and easy feature that allows you to quickly recover individual files without having to restore the entire virtual machine. Among the other features, that allow restoring a VM even on a different ESXi host and on a different datastore, it completes the Iperius offer for VM backup and restore.
You can see below how to mount a backup file of an ESXi virtual machine, created by Iperius into an .IBD file (incremental or differential backups). Browse the folder where Iperius created the backup and then the numbered folder corresponding to the specific backup date. Select the .IBD file: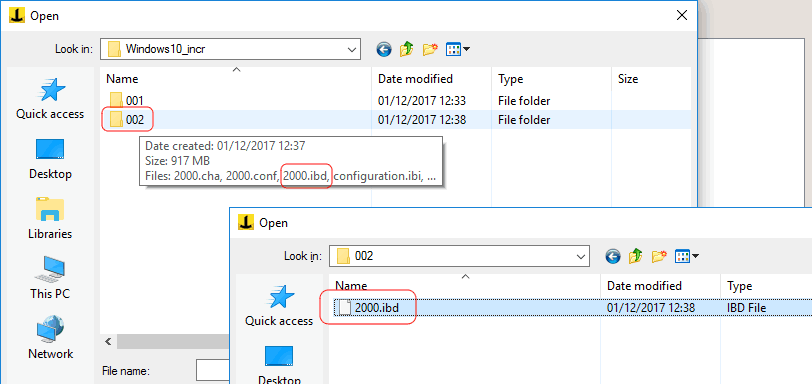 Once the backup file has been selected, ie the virtual disk saved by Iperius, it will be mounted with all its volumes (you can change the selected volume to find the one containing the files/folders you need). You can then explore the disk content to select the files to extract and copy on your hard drive:

The software will ask you to select a folder on your hard drive where to extract the files. Just click OK to restore the desired files. A progress window will be shown and the time required will obviously depend on the number and size of the files you have selected. Of course we can also extract one or more folders, in a completely automatic way.
Operation complete! We have seen how the recovery of individual files from ESXi virtual machine backups is extremely simple with Iperius. And above all, it's a completely free feature!
If you want to extract files from a .VMDK file, the operations to be performed are exactly the same, and allow you to extract files from VMDK virtual disks without the need to mount them with VMware Workstation Player or to use complicated third-party tools (the functionality is also available with Iperius Backup Free). For more information, see the related tutorial: https://www.iperiusbackup.net/en/how-to-mount-open-vmdk-file-and-extract-files-with-iperius-free/