Iperius is a powerful and easy-to-use tape backup software and, similarly, it allows you to restore individual files or folders from tape, in a very simple way.
Let's see in the following images the few simple steps to make a tape restore.
From the program main window, click on the "Restore" tab and then on the "Restore from Tape" button.

Iperius will access the first tape drive among those that may be present on the machine (remember that Iperius can also perform parallel backups to multiple tape drives). It will read the backup information from the tape header and will show them: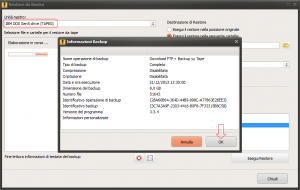 As shown in the image above, we can see the backup name and date, the number of files and their size, etc. At this point we can decide whether to proceed to read the tape content and create the file list. To do this, click the "OK" button.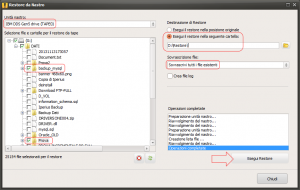 Once Iperius created the file list, you can select all items or just some specific files and folders.
In the right pane, you have to set some necessary options, such as the folder on the disk where to restore, the file overwriting rules, and the possibiity to create a log file of the restore operations.
Once you have selected the items and chose the options, click on the button "Run Restore". After the restore has been completed, you can immediately check the files that you've recovered.
The tape backup made with Iperius is extremely reliable and practical, since all the information is written directly into the tape. This allows an absolute backup integrity and ease of recovery from any computer. To see how to make a tape backup with Iperius, read the corresponding tutorial.