This tutorial shows how to make an automatic backup to Dropbox (online backup) using the Iperius cloud backup features.
Iperius Backup can make backups also to other important cloud storage services, such as Google Drive, OneDrive and Amazon S3.
Dropbox is a free file sharing service that can be also used as an online storage solution to save data to a different geographic location.
From the Iperius main window, create a new backup job:

Add the files and folders you want to backup to Dropbox: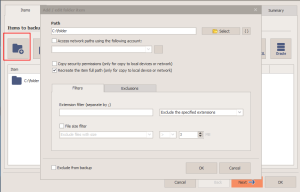 Now you need to create and select a Dropbox account into Iperius. To do that, you've to obtain first an authentication code from Dropbox.
Sign in to the "Developer Console" of your Dropbox account and generate the authentication codes needed by Iperius to access your Dropbox space and send a backup to it. In order to see how to get the authentication token, read the dedicated tutorial: Create a Dropbox App and get the authentication token.
Once you created the Dropbox App and obtained the authentication code, add a new cloud destination and create a new Dropbox account into Iperius.
As you can see in the image below, to add a cloud account you must simply click on the button circled by red. You can create an unlimited number of accounts, and you will see all of them in the list. Among the other available options, you've the number of copies to retain, the possibility to protect zip files with a password, give a custom name to zip files, limit the upload bandwidth, etc.
You can put your backup directly into a subfolder on your Dropbox space. You can choose a fixed name or you can make it dynamic using special variables (for example, Iperius can automatically create new folders using the week day name).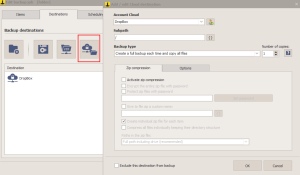 In the image below you can see how to create a Dropbox account using the App Key and App Secret generated in the Dropbox "Developer Console":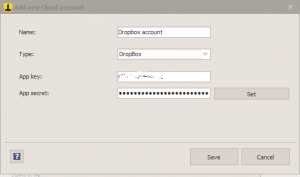 Save the account by clicking the button "Save".
The configuration of the Dropbox account has ended  and the browser will show this message: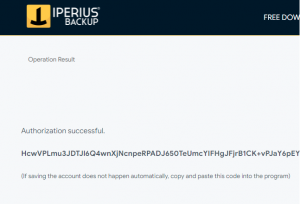 The code should be automatically "intercepted" by Iperius and the account is created successfully: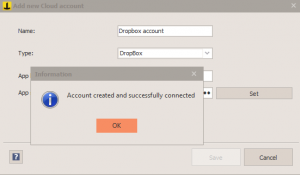 In the next panels, you can set the automatic execution of your backup, according to specific days and times, and configure e-mail notifications, which allow you to stay informed on the correct result of the backup operations.
To configure these options, read the related tutorials:
Configure automatic backups through the integrated scheduler – Configure email notifications
In the final panel, insert the backup job name and click "OK" to save it.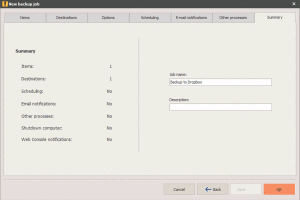 Once your new backup job has been created and is in the list, you can immediately run it by clicking on "Run Backup".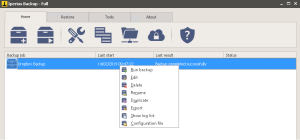 The backup to Dropbox you can make with Iperius is a further opportunity to use your online space, different from the simple synchronization that you can do with Dropbox client program itself. In fact, Iperius can automatically compress files and folders into zip files that can be protected by a military-grade encryption algorithm (AES 256-bit). Even in the unlikely event that a hacker violates your Dropbox account, he won't be able in any way to access the backup files encrypted by Iperius.
You can automate in a very simple way the backup of your confidential documents in a different geographic location and with maximum security available today. For more information on data security for cloud backup, read this article.