We are already eight months into the life of the latest operating system from Microsoft in Windows 10 and as the free upgrade to this newest offering expires in the summer, one year after its release, those people still sitting on the fence with regards to whether they should upgrade from Windows 7 or Windows 8.1 will be forced to make a decision. Should these people decide that they wish to take advantage of a free OS then they'll certainly need to make a Windows backup should anything go wrong and they need to roll back and try again.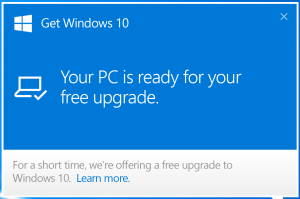 Here's why:
First of all, in this day and age there is no reason that anyone should not be backing all of their data and having a windows image backup to ensure that should their device fail, have the data corrupted or, even worse, have the data erased by having their machine infected with viruses or ransomware that they cannot quickly and easily restore device without any hassle. These windows backup events should be done regularly and with differing schedules to ensure that no data is lost, no matter when any potential issue should occur.
This is especially true when it comes to upgrading your operating system as there are many issues that can arise during the process that may leave your computer in an unusable state should you not have a windows 7 backup or a windows 8.1 backup (of course depending on your current operating system) readily available. There have been several major issues with upgrading to Windows 10 reported since its release last summer and the worst of these that can, will and have affected data are as follows:
You are Out of Space: The Windows 10 OS is significantly larger than both 7 and 8.1 which can cause issues during the upgrade with your device's operating stuck in a sort of limbo. This is especially apparent on a mobile device which have lower storage space and while Microsoft advise that their Windows 10 Media Creation Tool will allow Windows 10 to be imported in to upgrade to the latest OS attempting to upgrade without this could result in a loss of data and a half an OS.
Your Programs are Gone: On all occasions of upgrading to Windows 10 decides what apps and programs must be removed for the install to take place and, sometimes, these will not work after the upgrade. With 55% of the world's computers running Windows 7 not all programs and apps will be compatible with the less supported OS so, especially if the missing software is vital, having a Windows backup is vital to restore the old operating system if you have apps and programs that must be used.
Black Screen: This is a widespread problem for upgrading to Windows 10 and has no resolution forthcoming from Windows, so the only way to secure all of your information is with a Windows image backup via Windows backup software.
The only way to ensure that all of your vital information, whether it be school work, vital work information or even personal data such as family photos, is protected in the event of one of these Windows upgrade issues, or even another one that appears from leftfield, occurring and leaving you without a working device is to restore this data by having setup a Windows 7 backup or a Windows 8.1 backup.
There are many ways in which this can be done, including creating a system image on your machine – but if your machine is corrupted then your system image may be lost also – but the most secure way is to backup your data externally either online, physically or, preferably, both. The perfect way to do this is by using Iperius backup, which works exceptionally for both personal and business use, with the online version offering the ability to backup your files (automatically compressed and encrypted) to well-known online storage services like Google Drive, Amazon S3, Microsoft Azure, Dropbox and OneDrive. The physical option allows you to complete backups and synchronize files to external USB drives, NAS and TAPE devices, other computers in the network, FTP servers too.
How to backup windows 7 and how to backup windows 8:
The former of the two options is best served for personal use as users will be able to download their windows backup software from any other device with their login details to wherever their backup has been stored, where it can be downloaded to a USB flash drive and used to re-install the OS on your machine. The process is simple to complete and Iperius have kindly provided a step by step tutorial on how to ensure that your windows backup goes perfectly to prevent data loss and it can be read here:
https://www.iperiusbackup.net/en/make-incremental-ftp-backup-iperius-online-storage/
Iperius have done the same with steps on how to avail of your windows system image and restore your data using your saved information too:
https://www.iperiusbackup.net/en/restore-computer-from-system-image-backup/
The physical and off-site storage of your windows backup is vital for large companies with the threat of robbery, natural disaster and encryption from viruses all possible as well as any number of the issues above that could arise with a companywide roll out of a windows update. The details on backing up your data via physical magnetic tapes, as well as restoring your data from these, can be viewed below:
https://www.iperiusbackup.net/en/backup-to-tape-lto-with-iperius-the-simple-and-secure-software/
https://www.iperiusbackup.net/en/restore-tape-backup-iperius/
Just ensuring that your data is backed up is not enough as this data will soon become out of date as the device is used and more data is added to it, so to prevent any loss of data both ourselves and Iperius, as well as the wider data protection community, advise that there are multiple backups of data done at different times and on different schedules. Of course, Iperius offers many different ways to schedule backups and their tutorial outlines exactly how to schedule one, two, or as many as you wish, backups of your data to ensure that the maximum amount of information is captured to prevent any possible data loss.
https://www.iperiusbackup.net/en/how-to-schedule-automatic-backup-with-iperius/
So, before you upgrade your device to Windows 10 before the free option shortly expires, please ensure that you've got your windows 7 backup or your windows 8.1 backup safe and secure in the, hopefully unlikely, event that something goes wrong and you're left needing your windows backup to reinstall your operating system to get up and running again.