Iperius is a complete backup software for desktop and server systems. It has many features, one of which is easy and efficient and allows hot backup of VMware ESXi virtual machines.
Iperius can take a snapshot and download ESXi virtual machines from any computer in the network (or even from a machine which is in the same virtual environment), and perform the backup without any downtime.
Following some of the most significant features of Iperius for this kind of backup:
Extremely lightweight and stable software
Very easy to be configured and to be scheduled for automatic backup
Compatible with all ESXi (4.x, 5.x) versions
Compatible with ESXi free version (Backup ESXi Free vSphere Hypervisor).
One of the lowest price on the market (€ 146), perpetual licence, both support and updates are for free.
Only one license nedeed for unlimited host and virtual machines
Complete utility that has many other backup features
Following, a short tutorial shows how to perform backup of ESXi virtual machines:
As soon as Iperius has been installed and launched, you can create new backup job: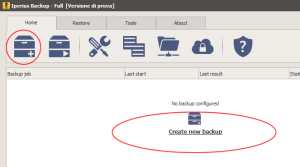 Then, as the picture below shows, add a special item, that is ESXi backup: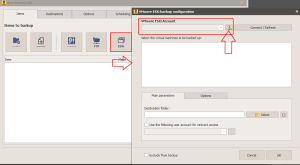 First you must create a connection account to the ESXi server (host). To do that, click on the dedicated button as shown in the picture below.
Creating an account is very easy: you simply have to specify the ESXi host IP address, the username and password.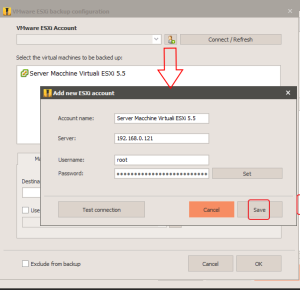 Once the account has been created and saved, you can establish a connection to see and select virtual machines: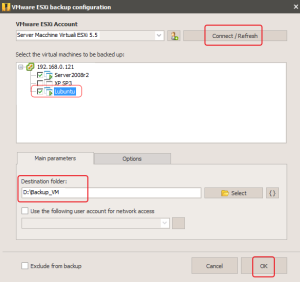 Basic settings are very few. It can be enough to select one or more virtual machines and specify a backup destination, which can be either a local folder or network share (in this case it might be necessary to specify an account to authenticate in the shared folder). Among the available options you can choose if making a virtual machine snapshot (required for hot backups, if the VM is running), if shutting down and rebooting  machines and if copying the folder where you download VMs into further backup destinations (i.e. Tape).
That said, save the virtual machine backup item by clicking OK. Moving on to the next panel, except if you want to copy the backup to further destinations (i.e. Tape), you can leave the list empty (since the destination is already included into the item).

In the "Options" panel, leave all the options to their default values, while you can read the following tutorial for automatic scheduling and email notifications:
How to set up automatic backups with integrated scheduler
How to configure email notifications after backup
Finally, choose a name for the backup job and save it clicking OK.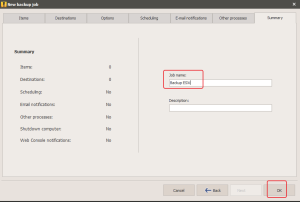 You can immediately launch the backup right clicking on it, as shown in the image below: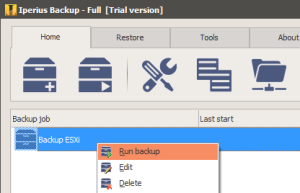 Considerations on backup speed:
With a standard configuration the backup is much faster when Iperius is installed on a physical machine (external) in the same network of the ESXi server, while it can be slower when Iperius is installed on a VM hosted in the ESXi server itself. Anyway, to improve network performances and to solve possible problems, it's recommended to read the related VMware documentation: http://kb.vmware.com/selfservice/microsites/search.do?language=en_US&cmd=displayKC&externalId=1004087 .
Restore:
Restoring an ESXi virtual machine that you've previosly backed up with Iperius is very simple. In fact, Iperius saves the virtual machine in its original format (with the various .vmdk, .vmx files, etc.), so you will simply need to re-upload the folder containing the backup to the ESXi datastore (using the standard management software provided by VMware, vSphere Client), and then reconnect the virtual machine simply right clicking on its .vmx file and then on the menu item "Add to Inventory". Once you did this, you can immediately restart the virtual machine.
Scarica la versione di prova gratuita