Iperius Backup is a reliable FTP backup software and a perfect solution to save your data remotely. It is possible to configure online backups to any FTP or SFTP server, even simultaneously, with bandwidth limitation and advanced filters.
Iperius can make incremental backups: while the first time all files are copied to the destination, the other times only modified or new files are transferred. This allows to greatly speed up the backup process and to save internet bandwidth. Moreover, Iperius can be used to make ftp backups of SQL Server database, MySQL databases, ESXi and Hyper-V virtual machines, Exchange servers, etc.
Iperius also supports zip compression, FTPS and AES 256 bit encryption, granting in this way the maximum security level.
Below you can see the few simple steps to configure an online backup.
First open Iperius and create a new backup job: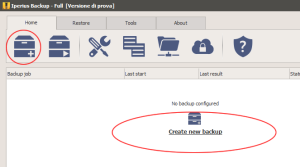 In the first panel, "Items", add the files and folders you want to backup. You can add an unlimited number of folders and, for each of them, specify several advanced filters and options.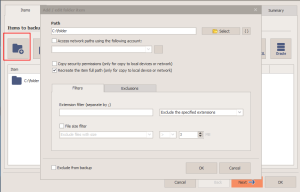 In the next panel, "Destinations", you must add the FTP destination.
First you need to create and select an FTP account (specifying the server address and the login data):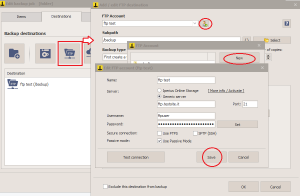 For every account you can specify some important options, such as the secure protocols FTPS and SFTP.
Once the FTP account is created, go back to the destination configuration, where you can select a specific subfolder on the server, the backup type (in this case the second option, so the incremental backup) and if keep multiple copies.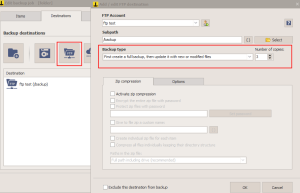 Iperius also allows Synchronization ("Options" panel): if you enable this option, Iperius will delete from the FTP server those files no more existing in the local folders.
In this window there are some other important options: the creation of custom folders (also using special variables), the possibility to use multiple connections (sending more files at the same time, overall performances are highly increased), and the bandwidth limitation (to avoid consuming all the internet bandwidth).
The main configuration is now completed. However, there are many other options you can set, such as the scheduling for automatic backups, email notifications and running of external scripts.

Leave all the options to their default values, while for scheduling and e-mail notifications you can read the following tutorials:
How to set up automatic scheduling  –  How to configure e-mail notifications after backup
In the final panel, you must specify a name for the backup job and click "OK" to save it.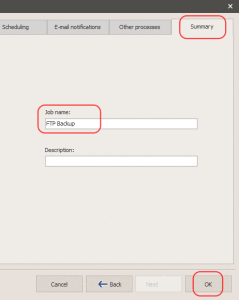 Once the backup job is saved, you can immediately run it: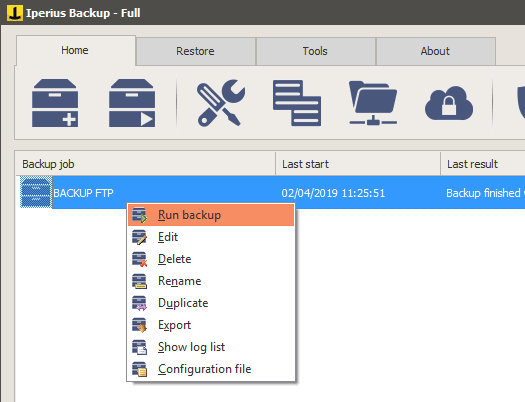 —
RESTORE
If you need to restore one or more files from your FTP backup, the fastest way is to connect to your FTP server simply right clicking on the destination and then on "Explore path". The Iperius FTP Client will allow you to browse remote folders and download the files you need to restore.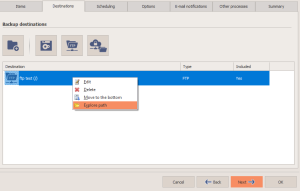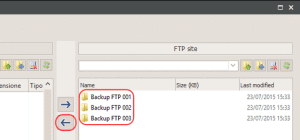 Thanks to its great flexibility and ease of use, Iperius can be considered one of the best and most complete FTP backup software to make online backups via FTP. Iperius can also be used to automatically update one or more website, or to download entire websites. Apart from incremental backup, Iperius supports full backups with zip compression and AES encryption as well.
FTP backup is available starting from the Desktop edition (for workstations) at only €29, and at only €69 (Essential) for servers. Iperius is an affordable solution to save files remotely, also considering its license is perpetual, while support and updates are completely free.
Click here to buy Iperius Backup