Iperius Remote is a free software for remote desktop and remote support, available on Windows platforms and also as Android and iOS apps.
However, the free version of Iperius Remote has some limitations that can make it less efficient for commercial use.
Iperius Remote Free allows you to open only one remote desktop session at a time and does not allow you to have a shared address book showing remote computers. Furthermore, it is not possible to have different operator accounts (very useful in a company where there are several people who do remote support), nor the statistics that allow knowing the number and duration of all connections, divided by remote computer, group or operator.
Finally, the commercial version of Iperius Remote has complete administrative management dashboard, which allows you to create groups of computers, assign remote computers to specific groups, create multiple operator accounts (each one with its own credentials) and for each of them to manage the permissions for groups and computers.
Paid versions of Iperius Remote can be purchased from this page of the official website: https://www.iperiusremote.com/iperius-remote-control-software-shop.aspx
Master account and Client account:
When you purchase a commercial version of Iperius Remote, you are sent a pair of authentication credentials: a Master Account and a Client Account.
The Master account will have to be used by those who make remote connections (generally the company that does remote support), while the Client account will have to be inserted in the Iperius Remote that go to the remote computers (generally of the customers to whom support is given).
The Master account can clearly also be used to access the administrative area of Iperius Remote, where it is possible to create computer groups, create operators and modify various general configurations of your license.
Let's see in detail where to enter account credentials:
1. Local computer (Master (administrator) or Operator):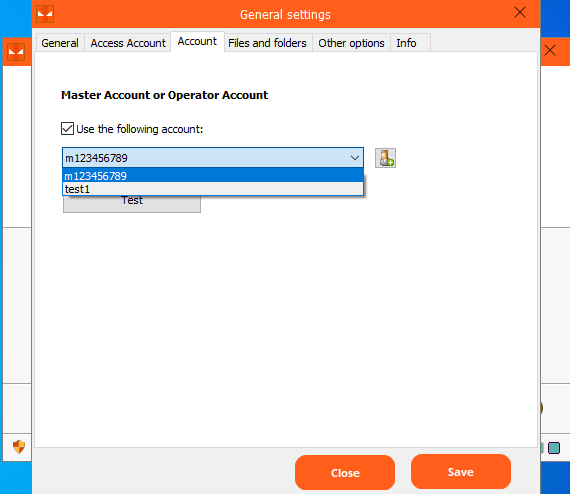 Add the Master account or an operator account by going to the general options and then to the "Account" section:
2. Remote computer: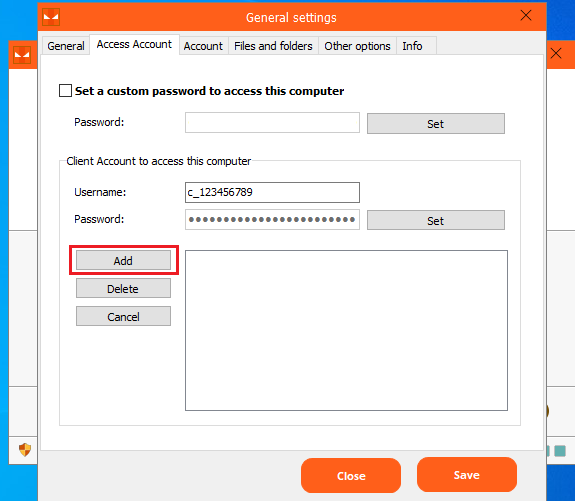 The Client account can be added in the general options too, in the "Access Account" panel, as shown in the image above. As you can see, Iperius Remote allows you to specify more than one Client account. This is because more companies may need to open a remote support session to the same customer and therefore to the same remote computer. Each of these can log in separately with their account.
3. Access remote computers through your "address book":
Once you have specified a Master or operator account on your local computer, and once the Client accounts have been entered on the remote computers, we can immediately view the list of connected computers, using the appropriate button: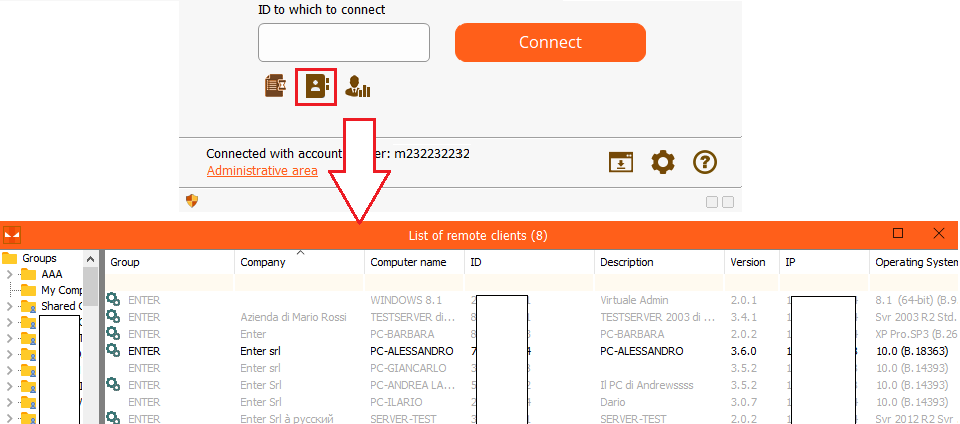 All the computers you see in the list are the ones where you entered the Client account. You can see them if you have set up a Master account or an operator account that has the required rights to do so.
You can connect to a remote computer with a simple double click on the list.
Having activated Iperius Remote with the Master account allows you to also access the statistics and the administrative area, using the appropriate buttons.